British MPs reject military intervention in Syria
Any possibility of British involvement in a military campaign in Syria has been effectively ruled out after British lawmakers voted down the prospect in parliament, costing the US the nation's closest ally in a potential strike.
By a 285 to 272 margin British MPs rejected the government's motion to support in principle military action against Syria. A second vote was due to be held on committing to action following the report by United Nations weapons inspectors, who are currently investigating claims that President Bashar Assad used chemical weapons on civilians.
Major blow to Government as motion defeated. 272 yes 285 no @RT_com

— Sara Firth (@SaraFirth_RT) August 29, 2013
British MPs also voted down an opposition Labour amendment calling for more information about the deployment of chemical weapons in Syria.
The Labour amendment was defeated Thursday by 332 votes to 220. "A number of Tories in the no lobby with Labour," wrote Labour MP Jon Trickett.
MPs on both sides of the aisle expressed doubt over British involvement in Syria during a six hour debate in the House of Commons. Cameron called back lawmakers from their summer vacation to determine whether Britain would join US-led military action in Syria, if the US decides to do so in the coming days.
The vote could be a blow to Cameron's authority after he has advocated UK military action in the event US forces deploy missiles in the Middle East.
British Prime Minister David Cameron asserted that such action would put a halt to human rights atrocities in Syria, while Labour party MPs said they required more evidence of Assad's guilt to intervene in the Middle Eastern nation's two-year civil war.
Cameron, while advocating limited attacks against the Assad government, admitted he was not "100 percent certain" that Assad was behind a recent chemical attack, but that it was "highly likely".
After the defeat in the parliament, Cameron admitted it was clear that Britons did not want action and said he "will act accordingly." One MP shouted "resign" as Cameron pledged he would not order an attack.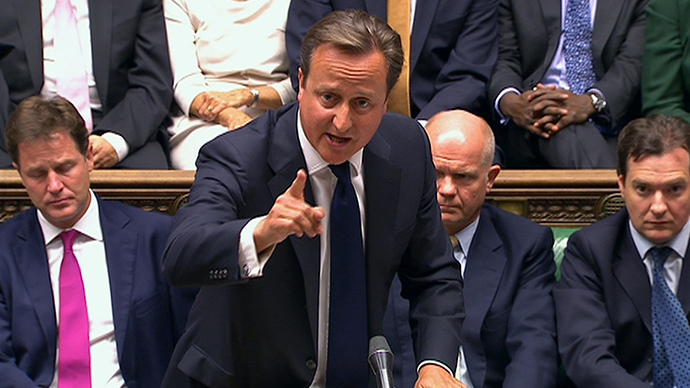 Phillip Hammond, the UK Defense Secretary, said the US "will be disappointed that Britain will not be involved", however he did not think it would halt the process, "I don't expect that the lack of British participation will stop any action," he told the BBC.
US Secretary of Defense Chuck Hagel commented on the UK's decision, explaining that a concerted international effort is the way forward in this matter.
"It is the goal of President (Barack) Obama and our government ... whatever decision is taken, that it be an international collaboration and effort," he said on a trip to the Philippines.
Hagel added that the American approach will be "to continue to find an international coalition that will act together. And I think you're seeing a number of countries state, publicly state, their position on the use of chemical weapons."
When asked whether it was in Assad's power to do anything to prevent the threat of military action against his country, Hagel replied that he did not wish to "speculate on hypothetical situations."
The vote came just before US President Barack Obama met with congressional lawmakers and other key leaders to brief them on possible military action in Syria. White House deputy spokesman Josh Earnest told reporters Thursday that the US was prepared to "go it alone" in Syria to protect American "core national security interests."
"The president of the United States is elected with the duty to protect the national security interests of America," he said. "The decisions he makes about our foreign policy is with our national security interests front and center."
Doug Brandow, a senior fellow at the Cato Institute, told The Guardian that "caution has grown" within the Obama administration.
"I think they've found over the last couple of days both a lack of support at home, both among the American people and Congress, and then they look internationally and suddenly they don't feel quite so surrounded by friends," he said.
You can share this story on social media: