Instagram sex rumors spark Swedish teen riot
Published time: 18 Dec, 2012 22:52
Edited time: 19 Dec, 2012 06:18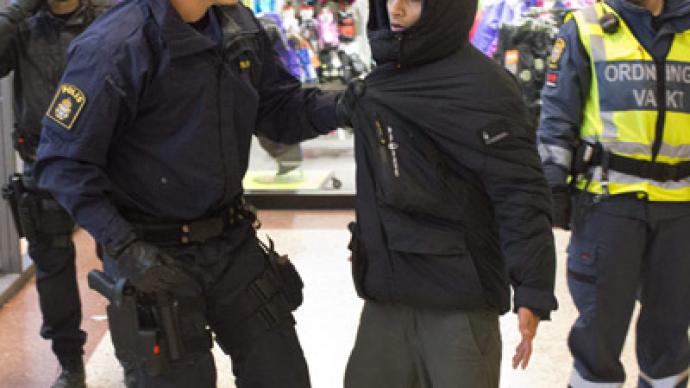 At least 27 people have been arrested as angry Swedish teens filled the streets of Gothenburg to protest the scandalous content of an anonymous Instagram account that spread sexual rumours about local teenagers.
­Riot police were called to quell the crowd as the situation became "unruly and heated" and the teenagers went "berserk," as witnesses described it.
"Several bottles and rocks were thrown at police on the scene and some members of the public who were passing by had their cars damaged," police said in a statement.
The violence began after an anonymous Instagram user, alleged to be a 17-year-old female student, created an account and asked Gothenburg teens to name people they would describe as "sluts" or "whores."

Following the request, more than 200 photos and names of student as young as thirteen were submitted to the account with a list of their alleged sexual misdemeanours.
"It grew to 7,000 to 8,000 followers. There were [pictures of] younger siblings of my friends, born around 1997 and later, that were uploaded," a local resident told Aftonbladet.
The account was eventually shut down by Instagram, but not before spreading the rumours to a Facebook page. Following massive circulation online, the alleged identity of the perpetrator was leaked. Teens then decided to organize a Facebook event to assemble at her school to stage a protest.
Riot police cordoned off the area in an effort to control the crowd, but the protest turned violent as the students started jumping on cars and kicking down streetlights.
The unrest also spread to a local shopping centre, forcing the local police spokesman Björ Blixer to concede to Aftonbladet that he didn't feel the police had the situation "under control."
Eventually, the students dispersed as the 17-year-old student, believed to be the instigator, was taken into custody for questioning on suspicion of libel.
Instagram, a Facebook photo-sharing application, has attracted massive criticism for its privacy policy. The application has updated its policies to allow the company to use submitted photos, names and text for marketing purposes.
"To be clear," says Instagram co-founder Kevin Systrom, "it is not our intention to sell your photos. We are working on updated language in the terms to make sure this is clear."
Police restrain youths outside a shopping mall in Gothenburg, on December 18, 2012. (AFP Photo/Bjorn Larsson Rosvall)
Still from YouTube video/Klykan Karlsson
Still from YouTube video/Klykan Karlsson