Iran, Saudi Arabia not invited to UN summit of world powers on Syria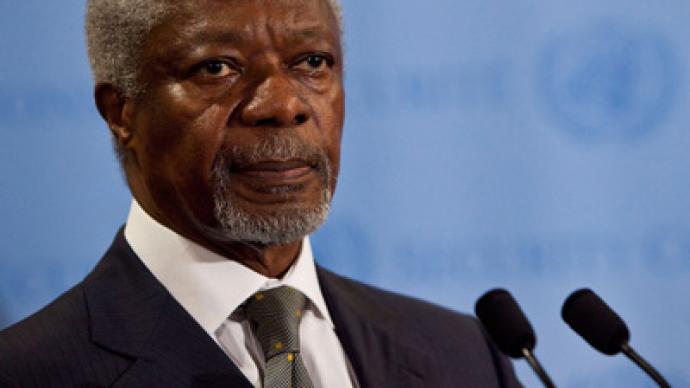 Iran and Saudi Arabia have not been invited to UN summit of world powers on Syria as peace negotiator Kofi Annan convenes the meeting in Geneva the coming weekend.
"I have sent invitations to the Foreign Ministers of the five permanent members of the Security Council – China, France, the Russian Federation, the United Kingdom and the United States of America – and Turkey," Kofi Annan has said in his statement.The list of those invited to Geneva also includes the Secretary Generals of the United Nations and the League of Arab States, the EU Foreign Affairs chief, the Foreign Minister of Iraq, the Chair of the Summit of the League of Arab States, Kuwait, the Chair of the Council of Foreign Ministers of the League of Arab States and Qatar, and the Chair of the Follow-up Committee on Syria of the League of Arab States.Kofi Annan defined the aim of the meeting as "to identify steps and measures to secure full implementation of the six-point plan and Security Council resolutions 2042 and 2043, including an immediate cessation of violence in all its forms." The Group would also discuss "guidelines and principles for a Syrian-led political transition that meets the legitimate aspirations of the Syrian people," he stated.The negotiators are expected to reach an agreement on actions that "will make these objectives a reality on the ground."
The international envoy has expressed his hope that all sides will "agree on concrete actions to end the cycle of violence and bring peace" to Syria, as the conflict there intensifies.Russia will be represented by country's Foreign Ministry Sergey Lavrov, who recently insisted on Iran's presence at the meeting.On Tuesday Foreign Minister Sergey Lavrov said that in case Iran was not invited, he still would be in Geneva for the talks, but the essence of the meeting will be limited to discussions on how to gather everyone, who are needed "to use this chance".Lavrov stressed that there are no guarantees that the meeting will bring any results."We believe that Iran should take part in the meeting, otherwise the circle of participants will not be full and not all of those who really have an influence on the main Syrian sides [of the conflict] will be present," Lavrov told journalists.Lavrov believes Iran is one of the countries who have an influence over the Syrian conflict.The Syrian President acknowledged on Tuesday that his country is in a state of war. The increasing bloodshed forced UN observers in Syria to suspend their patrols and activities on June 16. There have been up to 10 occasions when the monitors have been in indirect fire incidents. However, the 300 observers remain in the country and the mission could resume its activity. However, the UN peacekeeping chief, Herve Ladsous, says currently it is too dangerous for the monitors to restart their operations.
You can share this story on social media: