Russia halts plans to supply S-300 missile system to Syria - reports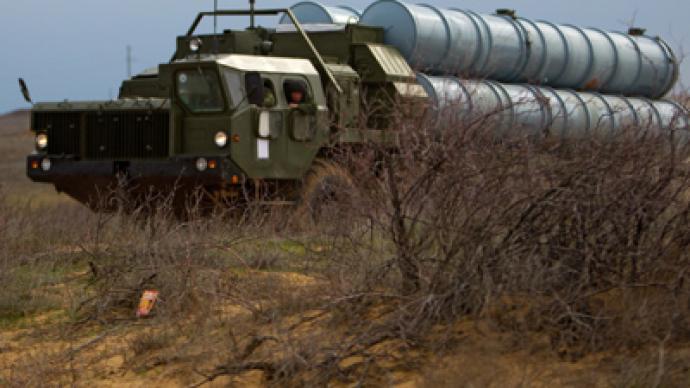 Russia's main weapons producer has allegedly suspended its contract with Syria to supply S-300 long-range missile systems. Russia's 'Vedomosti' daily published the report, citing unnamed sources within the military-industrial complex.
The very fact of the contract's existence was not known until it was revealed in an annual report made only last week and published online by the makers of the S-300 systems, Almaz-Antey. The report states that the company's largest contracts are with Algeria (which is paying $39 million for a long-range missile defense system), and Syria, which signed a contract for the same system for $105 million.The report also says that deliveries on the Syrian contract are expected to be made between 2012 and 2013. But 'Vedomosti' claims two separate sources, who chose to remain anonymous, have said deliveries have been put on the back-burner "after a direct order from above."It's unclear whether these reports are true, but many are already speculating on the potential reasons for such a step. Some have suggested that Moscow has decided to placate Washington and Tel Aviv, drawing parallels between this situation and the one back in 2010, when Russia cancelled its contract for the same missile system with Iran.However, the circumstances in 2010 were rather different. If Russia had fulfilled its contractual obligations back then, it would have been violating an international embargo. But no such embargo currently affects contracts between Russia and Syria. Others have suggested that Damascus may be strapped for cash, and simply cannot afford the S-300 complex. This claim is also open to speculation as military cooperation between the two states is basically founded on the fact that Russia forgave Syria its $10 billion debt in return for future arms contracts. No officials have yet commented on the matter, so it will be some time before light is shed on the situation. But President Vladimir Putin had previously said the arms that Russia delivers cannot be used in civil conflicts, and Russia's foreign minister, Sergey Lavrov, stated the supplies were merely defensive weapons sold in contracts signed long ago."We are sending no battleships to Syria. We have been saying publicly that we have been implementing contracts under which we have to supply arms to Syria. These armaments are entirely defensive and they mostly consist of air defense systems, which cannot be used against the population and can only be used to respond to outside aggression," Lavrov told RT.
Russia's military trade with Syria
Attention has been focused on military ties between Russia and Syria for some time, ever since international media claimed Russia was supplying helicopters to Bashar al-Assad's regime. US Secretary of State Hillary Clinton at first even lashed out at Russia, but later backtracked and was forced to admit that the shipment that had got the West's blood boiling merely consisted of some old helicopters sent back to Russia for repairs. Although the Russian Ministry of Defense does not disclose the total value of the arms supplied to Syria, outside estimates exist. The US Congress says Russia has outstanding contracts to supply arms for $3.5 billion, while the Swedish think-tank SIPRI puts the figure at between $5 and $6 billion.Among the widely reported shipments are two K-300 Bastion coastal defense batteries, equipped with supersonic Yakhont missiles. Two anti-aircraft systems, BUK-M2 and PANTSYR-S1, have also been purchased by Syria, though it is unclear if the orders have been fulfilled.A $550 million contract for 36 Yak-130 planes was signed between the countries earlier this year. While nominally a sophisticated training jet, it can also serve as a light combat aircraft. Russia has also promised to deliver 24 modernized Mig-29 destroyers. It is assumed that neither of these contracts has been fulfilled.
You can share this story on social media: