No more jokes: British comic Fry in Russia to film gay problems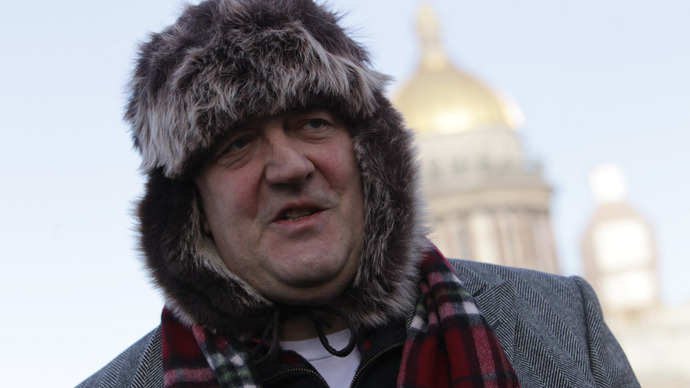 British comedian, TV anchor and author Stephen Fry – openly gay – is in St Petersburg to shoot a documentary about the problems the Russian LGBT community faces.
Fry has previously spoken in support of gay rights in the Russian northern capital where the government banned promoting homosexuality that minors might be able to see. A similar bill which would prohibit such information nationwide is currently going through the parliament.
A small bunch of fans of the actor who co-starred in the 'Jeeves & Wooster' series greeted Fry at St Petersburg's Pulkovo airport with flowers.
"Such a kind welcome from St Petersburgers at the airport. Wish I was staying longer and had time to do more than just work," the British comic wrote in his Twitter micro-blog.
The admirers learned about the comic's arrival from social networking services only hours before his arrival, "that's why only 15 people gathered," one of them told Lifenews tabloid. "Had we known in advance, the crowd would be no smaller than that when Madonna [came to St Pete]," he added.
'The Venice of the North' was one of the first cities in Russia to ban "homosexual propaganda" among minors. Last year's law triggered a wave of bitter criticism from LGBT community as well as from rights activists both at home and abroad.
Stephen Fry – who claimed he knew he was gay since the age of 10 – lashed out at St Petersburg's deputies who voted for the controversial bill calling them "fantastical monsters."
"Hell's teeth. Something must be done to stop these fantastical monsters. Will talking about [Russian composer] Tchaikovsky be banned?" he twitted back in February last year – when the Legislative Assembly passed the bill in second reading. 
Apparently, the "ban on gay propaganda" was one of the reasons why Fry picked the city as a site for the film he's making for the BBC. 
Earlier, the British TV channel shot episodes for the film in America, Africa and India, Russian gay rights activist Nikolay Alekseev told Fontanka news portal. The point of the documentary, he added, was to get an idea of gay rights in different countries. 
In Russia, the film crew is interested primarily in the public and political side of the problem – particularly in connection with the recently adopted law. But there are also "real people's stories and tragedies" hidden behind statistics, Yury Gavrikov from LGBT organization "Equality" told the paper.
"For instance, I know cases when authorities take away children from lesbian couples. I think Fry is interested in such stories as well," he added.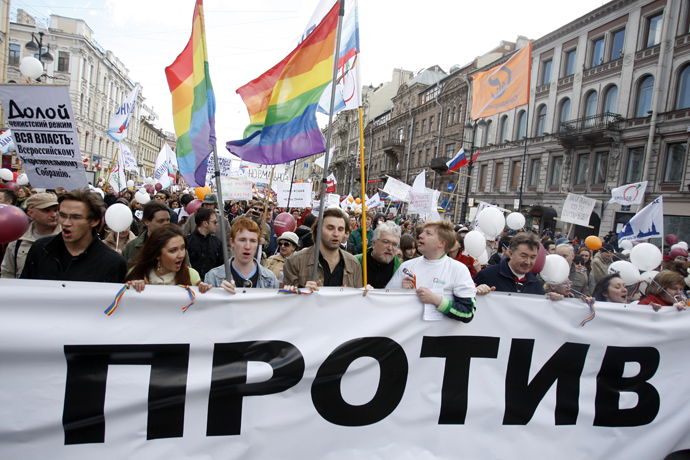 A meeting on the other side of the barricade was also planned: on Thursday Fry was to meet the author of the "homosexual propaganda" law – United Russia's deputy Vitaly Milonov.
However, as often happens, the sides had some difficulties finding common ground. Fry reportedly said he could not change his packed timetable and would have to leave two hours before the planned meeting. Milonov allegedly stated he had no idea who Fry was.
"He kind of acted as a naked man in 'Sherlock Holmes'," the MP stated to "AiF" newspaper.
Later though the legislator - who calls himself a "Christian politician" – said that he was ready to give an interview to the British TV anchor.
"I'm interested in talking to people with an alternative point of view," he told RIA Novosti agency.
You can share this story on social media: