St. Petersburg bans gay propaganda and promises to punish Rammstein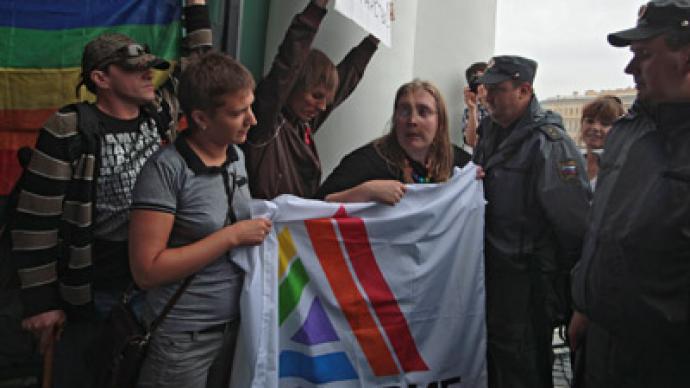 As St. Petersburg city legislature approved the bill banning the promotion of homosexuality and pedophilia, its initiator promised that when the bill comes to force he will personally seek to have the German rock group Rammstein penalized.
The bill was approved at its third reading on Wednesday by 29 votes to five with one abstention. Those who voted against the bill said it was poorly written and that the penalties were too light. When the bill is signed into force, promotion of homosexuality will be punished by a fine of 5,000 roubles ($166) for private individuals.However if a person found guilty occupies a public post the fine would be increased to 50,000 roubles ($1,600), and legal entities must pay from 250-500,000 rubles ($8,300 to $16,600). The promotion of pedophilia will cost legal entities even more, with fines between 500,000 and 1.5 million roubles ($16,600 to $50,000). The bill was initiated and promoted by United Russia deputy Vitaliy Milonov who is also the chairman of the lawmaking committee of the legislative assembly.He has said that once the law comes into force he would immediately address the city prosecutor concerning the recent concert of the German industrial metal group Rammstein. Milonov claimed that during the show the rockers performed "insulting scenes of sexual character" and described the whole show as "undisguised and rude pornography ". The lawmaker promised to find the ways to bring both the organizers of the concert and the group itself to responsibility. The bill has already drawn criticism from the LGBT community in Russia and from Russian and international rights groups. The head of the Vykhod (Way Out) gay rights organization said it would lodge a request with the city governor to veto the bill. Under Russian law the governor can issue a veto up to 10 days after a bill is approved by the legislature. Milonov said, however, that the bill had been discussed at public hearings and there were no well-founded objections to it. The lawmaker once again stressed that the bill was not aimed at limiting the rights of citizens, but rather at improving of the moral image of St. Petersburg which, according to Milonov, must become "the moral face of Europe".Russia decriminalized homosexuality in 1993, and removed it from a list of mental illnesses in 1999. However, Russian LGBT activists claim that the public's attitude to homosexuality remains negative, with gay marriages and the adoption of children by same-sex couples outlawed in the country. Sex with persons under the age of consent (16 years) is a criminal offence in Russia and can carry a prison sentence of up to four years. "Corruption of minors" – sexual activities without the actual sex act – is punishable by up to three years in prison.
You can share this story on social media: