Lower House mulls state control of 'homosexual behavior'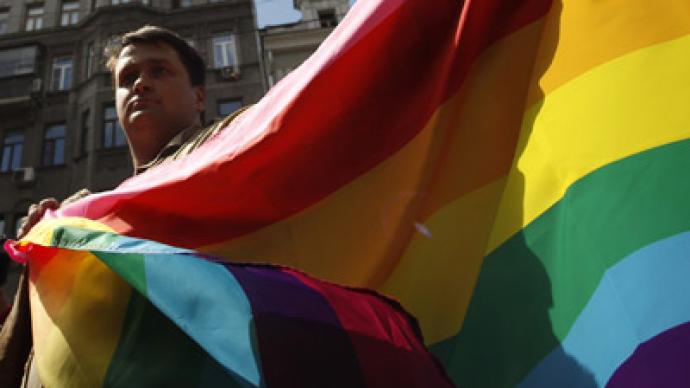 "A certain control over homosexual behavior is necessary in a democratic society," says a senior Russian MP as the State Duma prepares a bill on the nationwide ban of gay 'propaganda'.
The first parliamentary reading on the draft federal law prohibiting "homosexual propaganda" is scheduled for December 19.Russia has similar bans in nine regions, including the county's second-largest city St Petersburg. The move sparked bitter criticism from activists who accused the authorities of stirring up 'anti-gay hysteria.' The idea on a nationwide gay propaganda ban was discussed on Thursday during parliamentary hearings on the improvement of the law on the protection of children from sexual exploitation. "We've agreed that it's wrong to hide behind the backs of regional lawmakers," Yelena Mizulina, the head of the State Duma Committee for Family, Women and Children told journalists on Thursday. She stressed though that it is too early to talk about introducing criminal liability for gay propaganda: for a start, MPs plan only to amend the Russian Code of Administrative Violations.According to the official, it is unlikely that music videos or films with intimate scenes would fall within the scope of the bill. It would only refer to direct propaganda of homosexuality. The MP is confident that "a certain control over homosexual behavior is necessary in a democratic society." It is needed to prevent corruption of minors and their usage for lucrative purposes, she said, as cited by RIA Novosti. Children, when they grow up, should have an opportunity to decide themselves what sort of sexual relations they want to have, Mizulina, a Fair Russia deputy believes. They should mature "in a normal, adequate" atmosphere. Mizulina said that her committee will urge the deputies to pass the draft law at the first reading. "There's no reason to vote against it," she pointed out, adding that many Russian regions have welcomed the initiative. It is planned to consider the bill in its second and thirds readings in the spring next year. The bill was submitted to the State Duma earlier this year by the Novosibirsk region legislature. Under the proposal, homosexual propaganda could be punished by a fine of up to 5,000 roubles ($162) for individuals and 50,000 ($1,620) for officials. If a legal entity is found guilty of such an offence, it will have to pay a fine of up to 500,000 roubles ($16,200).