Moscow court upholds 100-year ban on gay pride events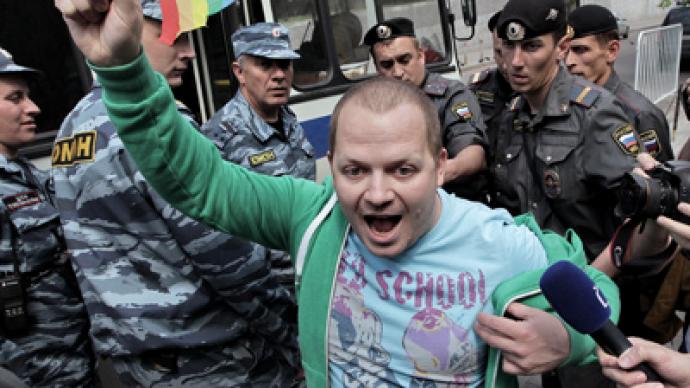 The Moscow City Court has confirmed for the second time its ruling banning all LGBT pride events in the Russian capital for the next century.
The court rejected a cassation appeal filed by Nikolai Alekseyev, the leader of a Russian gay rights community and the organizer of previous gay pride events. Alekseyev wanted the case to be passed to the Presidium of the Moscow City Court for reconsideration. "In the nearest future we will contest the authorities' actions over the 100-year ban on gay pride events in the European Court of Human Rights. Through this we will eventually achieve that the bans are recognized as unlawful, not only for the past, but for the future gay parades in the Russian capital," the Interfax news agency quoted Alekseyev as saying. The activist said he would report about the ruling to the Ministers' Committee of the Council of Europe, which in September will consider the legality of the Alekseyev vs. Russia case that banned LGBT pride events in 2006, 2007 and 2008. Earlier, the Tverskoy district court ruled in favor of the Moscow municipal government's March 2012 to May 2112 ban on public LGBT parades. The ruling came after LGBT rights campaigners discovered a loophole in Russian legislation, and submitted requests for 102 LGBT pride parades to the Moscow Mayor's office. In response, they received a letter with a quote from the legal regulations prohibiting the parades. Current law requires city authorities to either allow or ban the planned event within 15 days of the request.After the initial ruling, Alekseyev said that he and his group did not believe they would receive a license for the parade, but rather wanted a formal reason to take their case to the European Court of Human Rights.The Russian government began a legal campaign this year against alleged homosexual propaganda. A law against promotion of homosexuality and pedophilia was approved and enacted in St. Petersburg, prompting a group of parliamentarians to suggest approving a similar national law. Two individuals in St. Petersburg were recently sentenced under the law for displaying a poster reading 'Being gay is normal' on a street near a kindergarten.The bill has been widely criticized by Russian LGBT and human rights activists, as well as international human rights groups. Protest rallies outside of Russian consulates took place in several countries throughout the world.
You can share this story on social media: