Stalin appears on Christian icon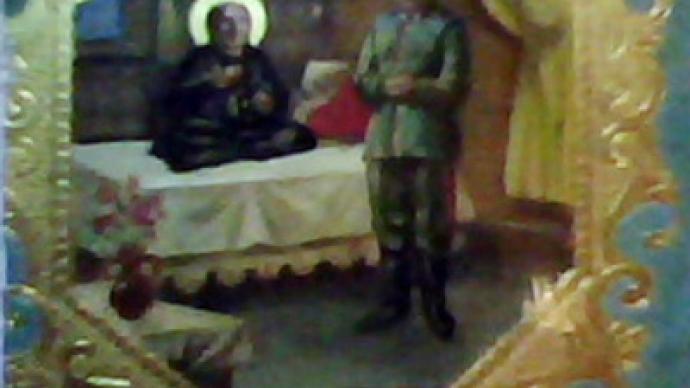 A small church near the Moscow Kremlin features an icon depicting Soviet dictator Josef Stalin. A similar image was at the center of a major scandal back in 2008.
The icon displayed in the St. Nicholas church shows the notorious tyrant talking to the St. Matrona Nikonova, reports Moskovsky Komsomolets newspaper. She is a saint of the Russian Orthodox Church, who lived in the first half of the 20th Century.
A popular urban legend claims that in autumn 1941, when Nazi German troops laid siege to Moscow, Stalin secretly visited the woman asking her for guidance. The saint allegedly convinced him that the city would not fall.
The icon of the St. Matrona shows several events from her life placed along the border of the image, and one is based on this legend, even though both historians and Church officials believe there is no truth behind it.
The journalists failed to find the origins of the controversial icon, but father Vladimir, a priest supervising Orthodox churches in central Moscow, said that apparently it was a gift, and that the painter was deceived by the legend.
In November 2008, a similar icon was put on display in a small church in St. Petersburg on the order of its prior. The move was condemned by clergy leaders and many public activists. In the wake of the scandal, the controversial icon was removed and the criticized priest renounced his position as head of the church.
After the Bolshevik revolution in 1917, the new Soviet government persecuted all religions, including Orthodox Christianity. Church property was confiscated, while preaching was forbidden. Josef Stalin himself, despite receiving scholarship to a Georgian Orthodox seminary in his youth, was an atheist.
You can share this story on social media: