Thousands forced to evacuate as wildfire rages near Spanish tourist hotspot (PHOTOS)
Published time: 31 Aug, 2012 14:37
Edited time: 31 Aug, 2012 18:37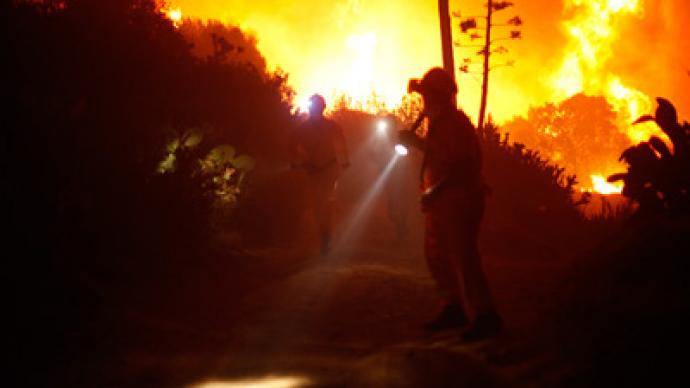 Spanish authorities have evacuated thousands of people from their homes as a massive uncontrolled wildfire continues to burn near the upmarket tourist resort of Marbella in the country's south.
Police found the charred body of an elderly man in a burned out house in the municipality of Ojen. Officers are scouring the building in case there are other victims. Over 3,000 people have been forced to leave their homes because of the fire, the Spanish daily El Pais reports.
Over 250 firefighters are battling to extinguish the wildfire, which covers an area between 50-60 kilometers, with around 17 aircraft dumping water on it from above.
The fire broke out near Malaga and quickly spread westward along the coastal strip on the back of low humidity, strong winds and record high temperatures. It reached Marbella early on Friday.

"I have seen several houses burn between Alhaurin and Coin [towns located not far from Marbella] and awesome30 meter high flames," Angel Nozal, the Mayor of Mijas, told the daily.
Marbella is famous for its up-market hotels and villas, and millions of tourists annually visit the Costa del Sol region in which it is nestled.
Local authorities do not know how the fire started, but they hope that weakening winds would help fire fighters get it under control later on Friday.
However, the Spanish State Meteorological Agency (AEMET) predicts the easterly winds which reach up to 40 mph are unlikely to abate by day's end, though some rain showers have been predicted for the affected area.
A fire is seen near houses in a forest at Barranco Blanco (White Ravine) in Coin, near Malaga, southern Spain (Reuters / Jon Nazca)
Firemen walk past a fire in a forest at Barranco Blanco (White Ravine) in Coin, near Malaga, southern Spain (Reuters / Jon Nazca)
Firefighters try to extinguish a fire with branches in a forest at Barranco Blanco (White Ravine) in Coin, near Malaga, southern Spain (Reuters / Jon Nazca)