Record-breaking fires put US tourism in the red
Published time: 19 Aug, 2012 22:25
Edited time: 20 Aug, 2012 02:25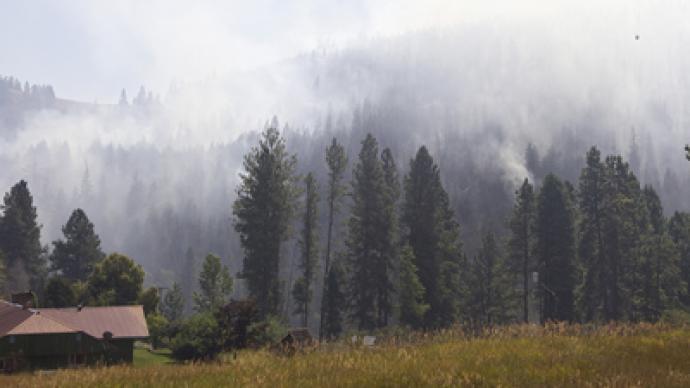 American tourism is struggling to stay afloat as raging wildfires ravage vast amounts of the country's territory. Record-breaking fires have caused some tourist sites to close their doors, with some 6.8 million acres having burnt to the ground.
­As recreation sites catch fire and tourists' prospects of exploring the great outdoors are destroyed, many communities in the American West whose livelihoods depend on visitors are losing both land and money.
This year, 42,274 fires have taken their destructive toll on US land. Outdoor tourist attractions, particularly in the western part of the country, have seen their number of visitors dwindle as the phones ring off the hook with cancellation requests.
"We've had nothing but cancellations," the owner of a tourist transportation business in Idaho told Reuters. Wildfires have destroyed 80,000 acres of mountain pine forests in the state, leaving numerous river rafters stranded after they found the exit road blocked by fire damage.
In California, some national parks have partially burned down, including Lassen Volcanic National Park and Joshua Tree National Park. Further north in Washington State, last week a fire caused hundreds of people to evacuate as more than 24,000 acres were destroyed.
In Colorado, the Waldo Canyon Fire caused the evacuation of more than 32,000 residents this summer, and having caused more than $352.6 million in damage, holds the records for most destructive and expensive fire in Colorado State history.
"We'll have to maybe lay some people off and get a loan to carry us through next year," Pat Legel, owner of Wanderlust Adventure Rafting in Colorado, told NBC. "I don't think I will see the landscape along the river recover in my lifetime," he added.
A Manitou Springs tourist operator said the Colorado fire cost $2 million in tourist revenues, destroyed several businesses and placed a dozen others at risk of closure.
"It's been far worse than we expected," Roger Miller, chief operating officer of the Manitou Springs Chamber of Commerce, told Reuters.

Even America's most popular whitewater rafting site, located in Canon City, Colorado, is struggling to stay in the black.
"We've had a lot of cancellations due to the forest fires and it's really hurt us," Scott Peterson, marketing director of River Runners Rafting, told CBS News. "Our company's down about 25 per cent. And I think all the companies are suffering. This river, and whitewater rafting, is the lifeline to these river communities, just like the ski areas are to the mountain towns."
This year to date, wildfires have wiped out 6.8 million acres across the US, which is 25 per cent higher than the 10-year average for this time of year. 
And as state officials dig into their emergency funds to repair damage to the fire-stricken areas, locals say it could take many years before wildlife returns to the places that attract outdoor enthusiasts to the western US.