Thousands of S. Africans protest 'Apartheid'-like violence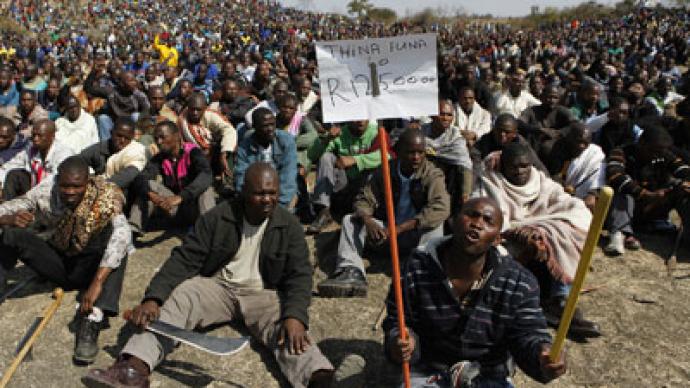 Thousands of protesters gathered at the South African Marikana platinum mine to demand justice after police shot and killed 34 miners. Many demonstrators said the shootings recalled violence from the country's Apartheid era.
The protesters demanded an explanation for why police fired automatic rifles, pistols and shotguns at striking miners on Thursday. Relatives of those killed also complained that police and the mine's management failed to produce a notarized list of those killed.Political parties and labor unions in the country are demanding an investigation into the bloodshed, with President Jacob Zuma vowing to conduct an official inquiry into the shootings. Police claim the killings were done in self-defense. National Police Chief Mangwashi Victoria Phiyega attempted to defuse tensions, saying the Thursday killings marked a dark day for South Africa, but that the protesters should refrain from hastily assigning blame.Mass strikes began last week in Marikana, northwest of Johannesburg, with thousands of miners massing outside the facility to demand higher wages and better working conditions. As violence escalated, some 3,000 police equipped with riot gear and supported by helicopters were deployed to the area on Wednesday.At least 10 people had been killed prior to Thursday clashes, including two police officers beaten to death and two mine security officers burnt in their car by striking protesters.The mass killings occurred on Thursday after police were outflanked by a crowd of demonstrators armed with machetes and spears, according to some reports. Others allege that the protesters were attempting to flee clouds of tear gas, and had no intention of attacking police.At least 34 strikers were killed in the clashes, with 80 wounded. Police arrested some 200 protesters. Lonmin PLC, the company that owns the mine, claimed that the violence was due to a dispute between rival unions.
You can share this story on social media: