Supersized: Politician buys pricey artwork masked as McDonald's meal
Published time: 22 May, 2012 03:18
Edited time: 23 May, 2012 04:57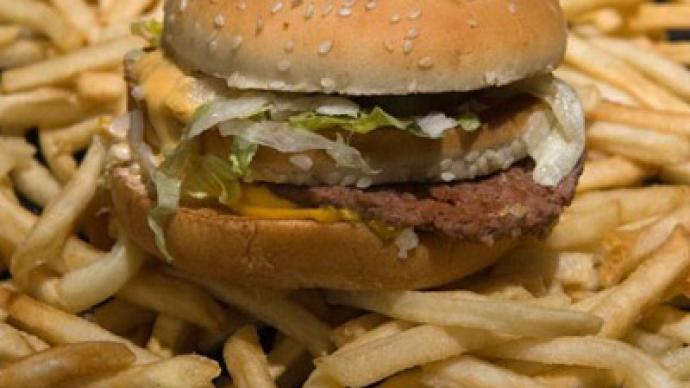 A South African politician bought a painting with state funds by disguising it as a purchase of 256 Big Mac burger meals.
Humphrey Mmemezi, the housing minister in South Africa's Gauteng province, used his government-issued credit card to buy some US$1,224 (10,000 rand) worth of burgers at a McDonald's joint in the capital city of Pretoria last year, The Star newspaper reports. That money was enough to buy 256 Big Mac burger meals, each garnished with a large French Fries and a Coca Cola at over US$4 apiece.
The money was then authorized into a bank account belonging to the fast food chain. However, that money was later transferred to another account owned by Art Unusual, an artwork shop in Pretoria. The truly unusual transaction reportedly allowed Mmemezi to obtain the coveted artwork from the shop.
The shop's manager, Alfred Addo, confirmed that the local minister bought the painting, but also noted that it was for his office, and not for his personal use. However, Addo refused to go into the details of the transaction.
"I am just an artist," he told The Star. "I did the painting and now know that the department paid me."
McDonald's also confirmed that the transfer of funds had taken place, saying that the company's local owner-operator, Cyril Ramaphosa, a notable anti-Apartheid activist, "was empathetic to the needs of a friend, the artist" by offering him to use his restaurant's credit card facilities to process the transaction, AFP reports.
"In hindsight, the owner-operator agrees that this was an innocent error of judgment," McDonalds stated.
The Democratic Alliance (DA), South Africa's main opposition party questioned Mmemezi's supersized McDonald's expenses.
"What was the justification of this purchase?" The DA's spokesman on local government and housing, Francis Nel, wrote in a question to the province's legislature speaker. "Why was this artwork bought through a McDonald's branch, and was all expenditure in line with the guideline concerning the use of credit cards?"
Mmemezi has yet to provide an answer on his purchase.
This is not the first time that Mmemezi, a member of the ruling African National Congress, used his government-supplied credit card. Last year he ordered expensive meals at various restaurants throughout the country.