Starving for the greater good: miners denied food underground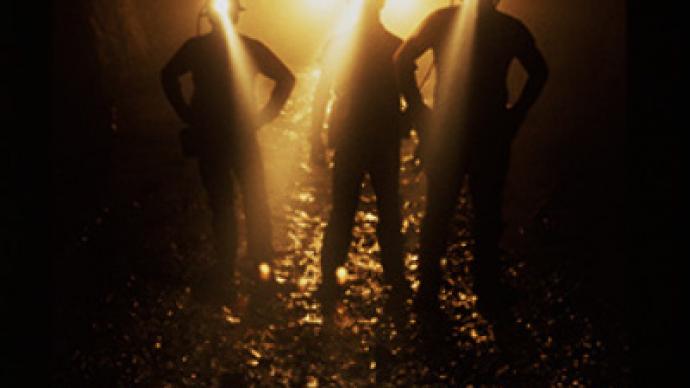 A ban on eating underground imposed by South African mining giants is causing outrage among local labor unions. The companies say the measure, labeled inhumane by their opponents, is vital to curbing illegal mining.
In January, a group of miners refused to come to the surface at the end of their shifts. The protest was prompted by Rand Uranium's eating restriction.
Attempting to starve out illegal miners, Rand Uranium starves its employees throughout the workday. The company prohibits its workers from taking food underground, claiming that they are the umbilical cords for criminals.
When illegal miners go underground, they often stay below the surface for months.
"Trading in food underground is the one essential resource that sustains their (illegal miners') illicit activities," Rand Uranium claimed in a press release.
The United Association of South Africa (UASA), a trade union, warned that growing unrest is likely to lead to strikes.

Instead of a reversal of Rand Uranium's food ban, another mining giant, Harmony Gold, has followed suit by imposing one. Harmony Gold generally limits underground workers to 500 grams of food and 2 liters of beverages, but now prohibits any eating in their Tshepong mine.
The toll of crime
These companies claim illegal mining takes a significant chunk out of profits. Some of the losses are attributed to revenues stolen when minerals are extracted and sold illegally. Other losses result from multiplying security costs.
Rand Uranium says it spent over 6 million Rands (approximately $819,000) revamping their access control system in addition to an extra 200,000 Rands (approximately $27,000) per month on increased security.
Then, there are the costs of stolen equipment and repairs to damaged and vandalized areas.
South Africa's president, Jacob Zuma, felt compelled to address the issue in London last month, saying, "We are taking this matter very seriously in the government."
Unjust and inhumane
While the president aims to protect legal business by combating illegal business, trade unions, such as Solidarity, have vowed to help protect workers from inhumane treatment.
The Tshepong food ban led Solidarity to launch a dispute with the Chamber of Mines, claiming that they were not consulted about Harmony Gold's drastic decision and that it violates last year's wage agreement.
In defense of legality, Esha Brijmohan, Harmony Gold's investor relations officer, told RT that Harmony Gold's food ban "was implemented in full cooperation with the Department of Mineral Resources and the South African Police Service."
UASA described the practices as an "inhumane, draconian and unilateral change to the terms and conditions of employment."
UASA also says barring miners from eating directly violates the South African Constitution, which entitles everyone to sufficient food.
With regards to how sufficient food is determined, Brijmohan claims, "we have also consulted our medical experts in this regard." She did not elaborate on the findings.
But it is essential for mineworkers to eat healthy, says Paul Mardon, Solidarity's Head of Occupational Health and Safety.
"Harmony's decision has a serious effect on workers' health as well as safety in the mine," he said. "The high heat levels underground cause a rapid decline in the sugar and electrolyte levels of workers who work under these conditions. These declines may cause workers to experience physical weakness and decreased levels of concentration and focus."
Effect of the food ban
Hoping to portray success, Rand Uranium says that very large numbers of illegal miners were arrested attempting to leave the mine soon after the ban was implemented.

However, Zuma's consolation in London and his announcement of an amnesty period "to encourage any existing illegal miners to end their illegal activities" suggest that illegal mining remains widespread.
Casting more doubt on the effectiveness of this measure are Rand Uranium's own contradictory remarks. The company claimed that denying workers food was part of a comprehensive solution. Yet, the same statement says, "given the ongoing problem with illegal mining, it would be unable to lift the ban on food underground."
This raises questions about Brijmohan's claim that Harmony Gold's food ban "will only be in effect for about three months."
Rand Uranium has restricted its workers to water for over a year but still describe the problem as "ongoing," suggesting that illegal miners have another source of sustenance and employees are the only ones desperate for food.
Michelle Smith for RT
You can share this story on social media: