Revolutionary solar plane completes US cross country journey despite wing tear (PHOTOS)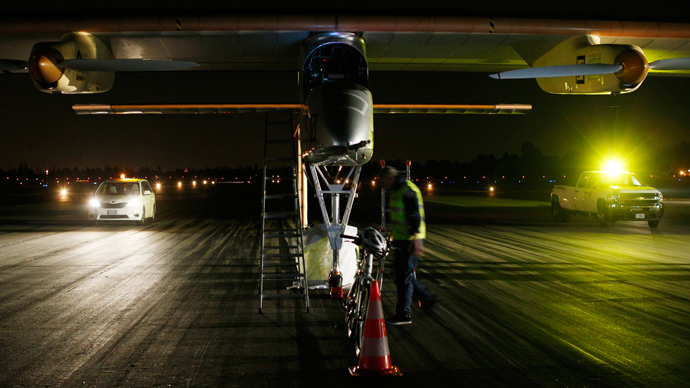 The Solar Impulse, an aircraft entirely powered by the sun, has successfully completed the final leg of its two-month journey across the US despite a 2.5 meter tear in its wing which forced it to land at JFK airport three hours earlier than scheduled.
The single-seat plane is powered by 11,000 solar cells on its wings and possesses a unique capability to fly during the day and night without fuel. It was due to have passed the Statue of Liberty before an early Sunday landing in New York. An unexpected tear discovered on the wing of the experimental aircraft on the eve of the landing forced the pilots to proceed directly to JFK.
The Solar Impulse touched down at JFK at 11:09 p.m. For Saturday's journey, the aircraft left Dulles International Airport outside Washington for its last leg a little before 5 a.m., on a route that took it north over Maryland, Delaware and New Jersey.
Despite the relatively short distance, Saturday's trip was a long flight that lasted 18 hours and 23 minutes. The slow-flying aircraft was traveling between two of the world's busiest airports and was required to take off very early in the morning and land very late at night, when air traffic is at a minimum.

=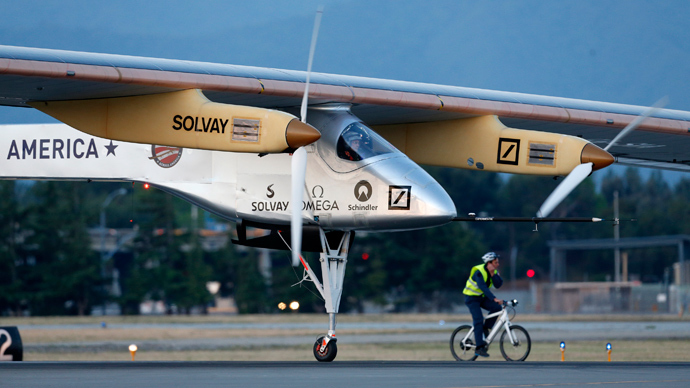 The aircraft weighs as little as an automobile even though the wingspan is as big as a jumbo jet. Officials said pilot Andre Borschberg was not in danger because the tear on the lower left side of the wing, and wasn't expected to worsen through the final portion of the trip.

The landing was tricky as the pilot could not use air brakes so as to avoid making turbulence around the tear in the wing.
"It was supposed to be the shortest and easiest leg," one of the pilots, Bertrand Piccard, said. "It was the most difficult one."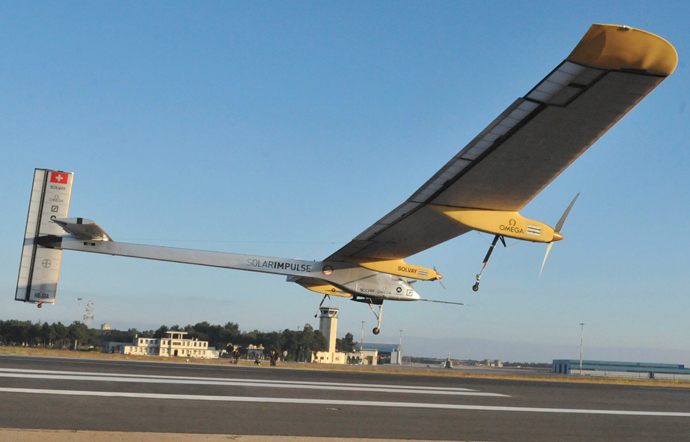 "Flying coast-to-coast has always been a mythical milestone full of challenges for aviation pioneers. During this journey, we had to find solutions for a lot of unforeseen situations, which obliged us to develop new skills and strategies. In doing so, we also pushed the boundaries of clean technology and renewable energy to unprecedented levels," co-founder of the Solar Impulse venture Piccard said.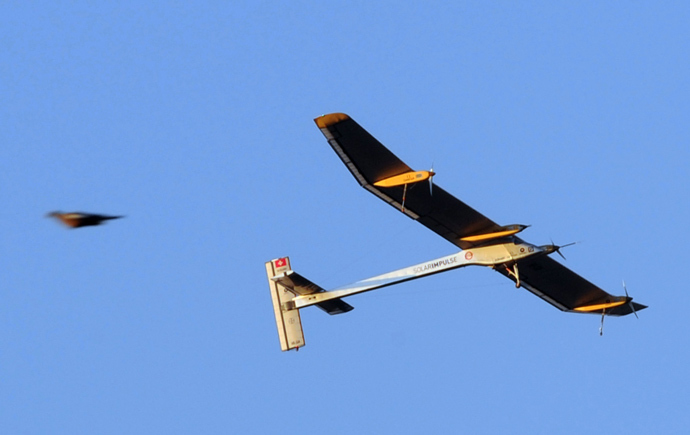 The project began in 2003 with a 10-year budget of $112 million. The challenge for Solar Impulse's creators - engineers from Swiss escalator maker Schindler and research aid from Belgian chemicals group Solvay - was to promote lighter materials and solar-powered batteries with a twist of adventure. The Solar Impulse is seen as an air equivalent of the Tesla electric sports car.
Europe first saw the solar plane with a test flight from Switzerland and Spain to Morocco last year.