Cannibal confession: Taiga ordeal survivors ate dead friend
Published time: 17 Dec, 2012 11:58
Edited time: 17 Dec, 2012 15:58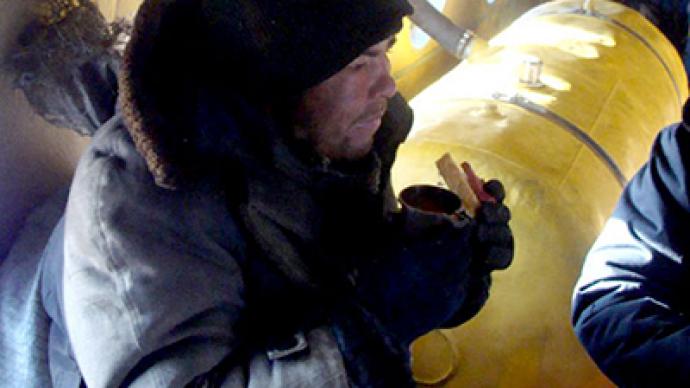 One of two men who survived four months of wandering in Siberian Taiga has confessed that the pair ate an unlucky friend who died from the cold. Earlier, rescuers had discovered a frozen butchered human carcass in the woods.
­Aleksandr Abdulaev is one of two people discovered by an emergency service helicopter patrol on November 28 in Russia's Yakutia Republic. Abdulaev, Aleksey Gorulenko, and two other men drove to a remote Siberian river in August, during the warm season, but had to return on foot across the now-snow-covered forests. The two survivors had marched some 100 kilometers by the time they were rescued.
The exhausted duo initially claimed that they left the two other members of their group in a hunter's hut, because one of them injured his leg and could not walk. But later, rescuers in Taiga sweeping their path stumbled upon human remains that had the marks of being cut into pieces with an axe. Most of the soft tissue was missing, and there were no claw or tooth marks, which would have indicated an attack by animal predators.
Confronted with the evidence, Abtulaev said he and Gorulenko had to resort to cannibalism, but insisted their friend died from exposure to cold, local news site Sakhapress reported, citing a police source. The man said the gruesome act allowed the pair to survive another week.
Forensic experts have yet to confirm the alleged case of cannibalism and the natural cause of death of the dead individual. The fate of the last missing member of the doomed expedition remains unclear, as the search continues.
The story remains a murky one, with much speculation about the original goal of the trip and the chain of events that lead to its downfall. The four men went to the Sutam River near the town of Dipkun for what was meant to be a fishing trip for several weeks, their relatives told the media.
In late September, their car was lost in a river, along with all their supplies, the survivors said. In mid-October, the concerned families tried to organize a search with the help of their friends, but were reluctant to involve official agencies. It was not until mid-November that Abdulaev's sister called the local emergency services, Komsomolskaya Pravda newspaper reported. It took a week of aerial reconnaissance to find the two survivors.
Rescue squad head Leonid Livandovsky told the newspaper that the men had acted strangely for people who faced a lethal threat. In early October, daytime temperatures fell below freezing, making survival in the forest much more difficult. Yet the men lingered around their river camp for three more weeks, taking supplies from several nearby hunter huts and apparently searching for something.
The newspaper suggests that the fishing trip was a cover for illegal gold panning. One of the men is a professional prospector, and the company for which he used to work eyed the Sutama River area for potential placer gold prospecting.