Cannibal craze: China joins worldwide trend with face-chewing incident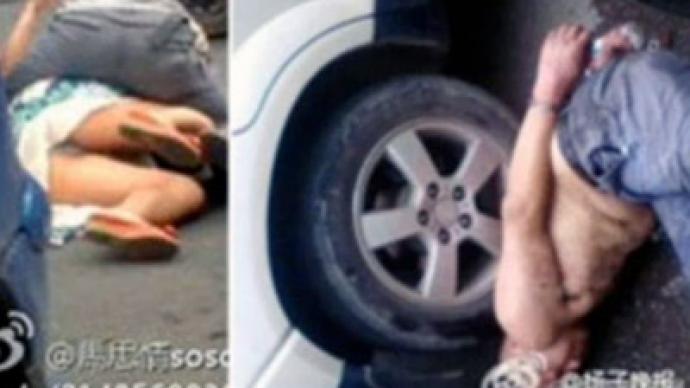 Horrifying footage surfaced of an attempt by a bus driver in China to eat a woman's face in the city of Wenzhou. This is only the latest in a string of bizarre cannibal crimes across the world.
The Shanghai Daily reported that a bus driver known only as "Dong" ran into the middle of the road near a bus station in the Ouhai district of Wenzhou City, blocking the car of a female driver. The woman has been identified only as "Du". Dong then apparently attacked Du's car, climbing onto the hood and banging violently on the windshield. As the terrified Du fled her vehicle, Dong reportedly wrestled her to the ground and in a bloody act of savagery began to eat her face off.  Apparently, Dong had been drinking heavily at lunch. Witnesses say they tried to subdue the man, but he was so "crazed" that intervention was impossible until the police arrived to apprehend him. Du was sent to a hospital where she will need plastic surgery to repair her nose and lips.
Please pass the anthropophagy…
This is only the latest in a string of strange cannibal occurrences worldwide, including an incident last May, when Rudy Eugene ate a homeless man's face off in Miami, earning him the title of "The Miami Cannibal". Eugene growled at police as they approached, refusing to stop chewing on the 65 year old Ronald Poppo's visage, and was eventually shot dead. Authorities originally suggested that Eugene was under the influence of 'bath salts', a designer drug that is notorious for causing psychotic episodes, hallucinations, and extremely violent behavior. However, blood work discovered only marijuana in Eugene's system. The spate of cannibal attacks worldwide is difficult to explain; the only apparent common denominator between the stories has been the bizarre savagery of the crimes committed. Causes range from alcohol and marijuana to jilted lovers and 'bath salts'.Other gruesome instances include Alexander Kinyua, a 21-year-old Morgan State University student in Maryland who killed his roommate Kujoe Bonsafo Agyei-Kodie, dismembered him with a knife, and then proceeded to eat parts of his brain and all of his heart. Kinyua's attack came the same week as Eugene's.Then there was the Canadian cannibal, Luka Rocco Magnotta, who was apprehended in Berlin after being on the run from Canadian authorities. Magnotta, a porn star, murdered his gay lover Jun Lin, and filmed himself eating parts of the body in a video he entitled "one lunatic, one ice pick". After ingesting, he chopped up the body and mailed the pieces to various addresses in Canada, setting off an international manhunt.So what could be causing these grisly attacks? Is copycat fever sweeping the globe after heavy coverage of the Miami incident? Or are these zombie-esque attacks just the latest rage?Karen Hylen, the primary therapist at Summit Malibu Treatment Center in California, told the Huffington Post in an interview that modern day cannibalism can be addictive."People who have engaged in this act report feelings of euphoria or get a 'high' by performing the action to completion," she said. "These individuals have psychopathic tendencies and are generally not psychotic. They know exactly what they are doing."Hylen says cannibalism starts as a fantasy that once lived out can prove addictive. "The pleasure center of the brain becomes activated and large amounts of dopamine are released – similar to what happens when someone ingests a drug like cocaine."
You can share this story on social media: