Twitter feed warns Australian swimmers when sharks are nearby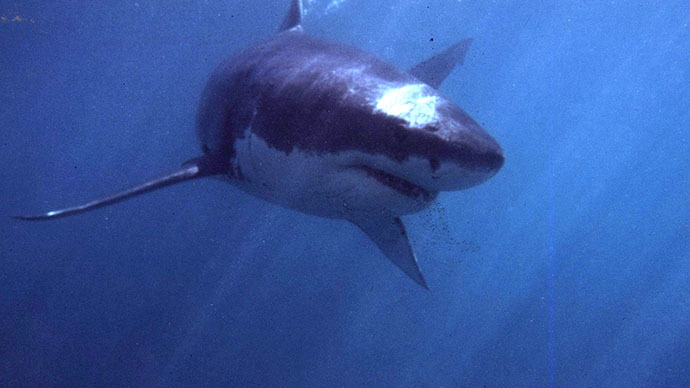 Beach-goers swimming on the coast of Western Australia now have less cause to scan the horizon for a dorsal fin before wading into the water, thanks to a new Twitter feed that alerts them when a shark is lurking nearby.
Scientists attached electronic transmitters to over 320 sharks, including a number of great whites, and are now able to track the fish as they swim through the ocean. When one of the sharks swims within one kilometer of the shoreline, the transmitter sends a signal to an underwater receiver, which then triggers an automatic tweet in a feed belonging to Surf Life Saving Western Australia (@SLSWA).
Along with various pictures and safety tips, the feed tweets advisories about what species of shark was detected, where it was detected, and when. Australians can then choose which beach they want to visit by glancing at the @SLSWA page and seeing which one has fewer sharks in the area.
SLSWA's Chris Peck told Sky News that the system is already popular - nearly 16,000 followers - because it communicates a shark's location much faster than a newspaper, radio station, or even a website is able to.
"You might not have got some of that information until the following day in which case the hazard has long gone and the information might not be relevant," he said. "Now it's instant information and really people don't have an excuse to say we're not getting the information, it's about whether you are searching for it and finding it."
The initiative will not only be useful for swimmers, but also for the potential information it will provide to the scientific community.
"These detections and WA's extensive receiver network are contributing to important research to help the government to better understand the movements of white sharks through WA waters, as well as playing a major public safety role," said Dr. Rory McAuley, principal researcher at the Western Australia Department of Fisheries.
"The battery life of internal acoustic tags is up to 10 years so the scientific data that may be collected from this shark is unprecedented," he continued.
Both researchers and the public hope this plan works, particularly because other non-lethal options have become harder to come by. Western Australia is the world's deadliest place for shark attacks, with 35-year-old surfer Chris Boyd recently becoming the sixth person to be killed in two years.
Authorities scour the water by beach and helicopter, and lawmakers have recently agreed on a plan that permits fishermen who find sharks longer than three feet to kill the animal if it is swimming in a designated surfing or swimming area.
"This is a simple knee-jerk reaction, based on zero science," environmentalist Ross Weir told Sky News of the plan, which also includes baiting water off the coastline to attract sharks in the summer months.
"It's not going to have any positive benefit for beach goers and their safety and it's certainly going to have a decimating effect on any great white sharks or other endangered shark species," Weir said.
You can share this story on social media: