Shanghai shark shock: 15 injured in tank explosion in China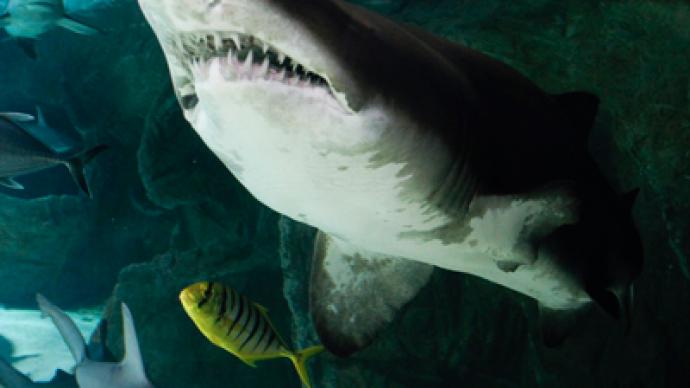 Tons of water, pieces of thick glass and sharks all around…These are not scenes from a horror movie, but a reality people faced when a 33-ton tank suddenly burst in a Shanghai shopping center. Fifteen people sustained injuries.
Three lemon sharks and dozens of smaller fish and turtles housed inside the 7-meter-long, 3-meter-high aquarium, became victims of the incident.  CCTV footage shows the majority of people were standing right near the shark-filled aquarium when it literally exploded.Horrified shoppers fled in panic when shards of 15 centimeter thick protective acrylic glass suddenly gave way, flooding the entrance of the Shanghai Orient Shopping Center on December 19.  Some of the injured, mostly with deep cuts and bruises, managed to stand up and call for help, while some shopping center workers were carried out by their colleagues, witnesses told a local Shanghai daily."There were lots of injuries caused by flying glass, some of them serious because the glass was so thick. We are investigating what caused this," a police spokesman was cited by the Austrian Times.Eight of the injured were believed to be customers while the rest were shop assistants and security staff.An official with the shopping center management which owned the aquarium, Chen Yongping, said that they are not going to "build an aquarium again in the future."No official reason for the destruction has been given so far, but customers said they believe a sudden temperature drop might have caused an explosion as it dramatically grew colder in Shanghai last week.The aquarium became a popular when it was opened before the National Day holiday two years ago.It is not the first time center's management had problems with the giant tank. Back in June a ruptured water pipe led to the death of two sharks and the removal of several turtles.
You can share this story on social media: