'Obsessed with sex': French priest charged with rape, torture during exorcisms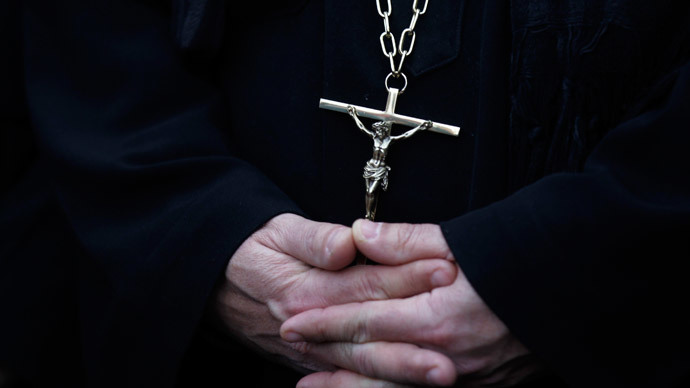 A French fundamentalist priest raped and tortured three teachers at a private religious school he ran during so-called exorcisms, leaving one the victims so disturbed she couldn't describe events to investigators.
Police say the priest raped three women in the autumn of 2010 after he met them at the private religious school Ecole Notre-Dame-de-la Sablonniere in Goussonville, west of Paris, which he was running at the time, according to French media reports.
For years the women did not come forward to the police and one of them was so traumatized that she couldn't even describe what had happened to her. The 40-year old priest was charged on Wednesday on charges of cruelty, torture and rape. He is now being held without bail
The cleric had allegedly raped one teacher to purge her of the "evil" of a previous sexual assault and used his "spiritual influence" to convince two other female teachers to experience similar exorcisms.
While being interrogated earlier this week the priest allegedly told detectives that he had only "simulated" the sexual acts, which the victims claimed were acts of torture using a broom, a toothbrush and some scissors.
An unnamed police source told the French news site Toute Les Nouvelles that the priest suffered from mental problems.
"He's obsessed with sex. In his own way he was fighting fire with fire," the source said.
The priest has already been tried several years ago in a religious hearing by his sect of St. Pius X, which sentenced him to two years in a monastery.
The Society of St Pius X is a congregation of traditionalist catholic priests founded in 1970 by Archbishop Marcel Lefebvre and refuses the authority of the Vatican. It has over 600,000 followers in 62 countries but has been dogged by accusations of anti-Semitism and far-right leanings.
You can share this story on social media: