Sect turns villagers into banana prostitutes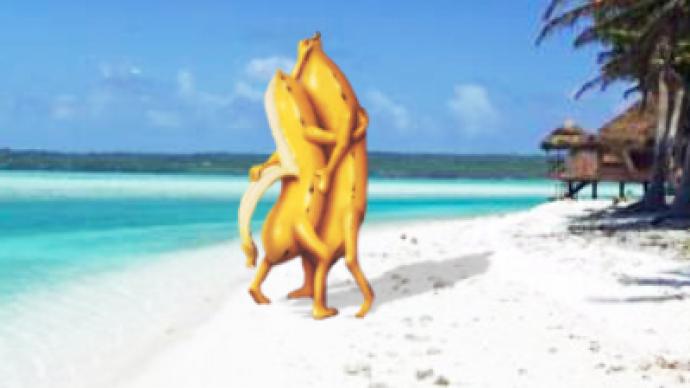 Papua New Guinean police are on the hunt for a cult leader who promised his members a bumper banana crop if they engaged in public sex, local Post-Courier newspaper reports.
The unnamed cult leader and his followers were not only engaging in illicit public sex, but also forced other villagers under threat of violence to take part.
The orgy in the tiny hamlet of Yamine lasted for four months before the village court chairman Titus Namusa escaped captivity one night and walked for twelve hours to report to the local government in Wau.
Namusa said the cult leader promised that the banana crop would multiply ten-fold every time the villagers had sex in public. And the thirty or so residents there joined the sect, claiming the government had forgotten about them.
"The leader told the people that they have not seen any government services and have resorted to other means of seeing services trickling down to their door steps and ordered about ten people to get involved in the alleged activity," Mr Namusa said.
The village court chairman, who protested the cult's actions, was imprisoned for his criticism.
"The chairman was threatened by the cult leader that he would be murdered if he reported the alleged illegal activity to the authorities in Wau and was told to keep shut and be quiet about it," Inspector Adam Busil, Wau police station commander, said.
The police sent a group of 15 armed officers to restore order in Yamine village, but the leader and most of his followers managed to escape.
"We arrived at the village and were escorted by an informant and moved to his house at 05:00 and surrounded it at 05:15. I called out his name and asked him to come out as we wanted to ask him about his alleged cult activity he was involved," Adam Busil said.
The cult leader opened the door briefly and, when he realized that it was the police, he quickly shut it.
He refused to negotiate with the officers, and some time later forced one of his naked wives out of the house.
"The shocked woman came out and stood naked in front of us. A few seconds later the leader and seven of his followers, including another one of his wives and three males – one a small boy – opened the door and rushed out of the house naked and dashed for the nearby bushes," Adam Busil added.
The man used his wives as human shields, ignoring the orders to surrender and escaped into the bushes.
The search for the cult leader continues, with additional police forces involved. If captured, he and his followers will be charged for various criminal offences, ranging from murder threats to indecent sexual activity.
You can share this story on social media: