Saudi Arabia executes 7 for juvenile crime despite UN appeal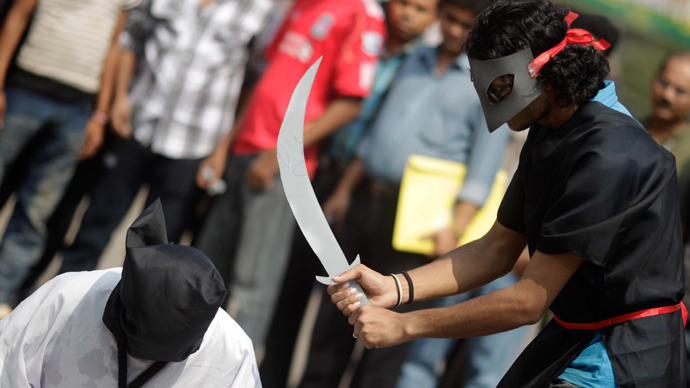 Saudi Arabia has publicly executed seven men convicted of an armed robbery they committed as minors. The execution was carried out despite a UN appeal for clemency.
The men were executed by a firing squad "as a punishment to them and to deter others" from carrying out similar crimes, the Saudi interior ministry said.

In 2009, the seven were convicted of "forming a gang that carried out several armed robberies and thefts with the help of other people" in 2005 – when they were less than 18 years of age – and sentenced to death.
The execution was "implemented a while ago at a public square in Abha," where the defendants were "shot dead," not beheaded as is customary for executions in the kingdom, a witness told AFP.
The men were to be executed a week ago, on March 5, but Saudi King Abdullah's eldest son reportedly ordered a one-month postponement, promising new investigation.

The case came into the spotlight after one of the convicts managed to contact AP and claimed he was tortured and threatened into confessing.
"I killed no one. I didn't have weapons while robbing the store, but the police tortured me, beat me up and threatened to assault my mother to extract confessions that I had a weapon with me while I was only 15," Nasser al-Qahtani told AP.
"We don't deserve death," he added, implying that other members of the convicted group have a similar story to tell.
Numerous human rights groups have appealed to Saudi Arabia to halt their sentences and review the case. Amnesty International called the execution "sheer brutality."
"It is a bloody day when a government executes seven people on the grounds of 'confessions' obtained under torture, submitted at a trial where they had no legal representation or recourse to appeal," Amnesty's MENA director Philip Luther said.
The executions came a day after the UN again urged the kingdom to halt its plans to kill the seven, alleging they did not receive a fair trial.
"In countries that have not abolished the death penalty, capital punishment may be imposed only following a trial that complied with fair trial and due process safeguards," said Christof Heyns, the United Nations' special rapporteur on extrajudicial, summary or arbitrary executions.
Armed robbery is punishable by death in Saudi Arabia, along with rape, murder and drug trafficking.

The latest executions bring the total number of those killed by the death penalty in Saudi Arabia this year to 26. According to various estimates, the country executed 69 to 76 people in 2012.
You can share this story on social media: