Sharia police state? Saudi husbands can track wives' travels electronically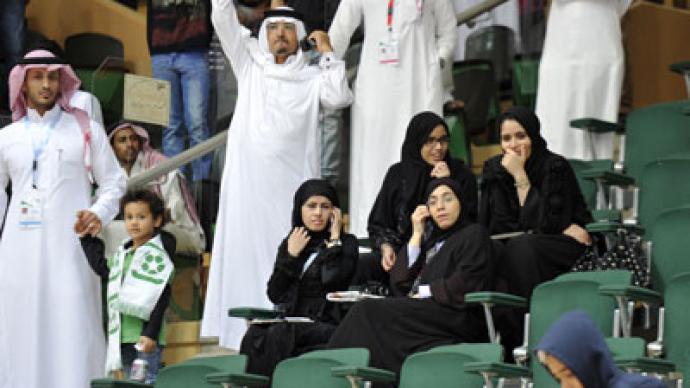 Saudi Arabia introduced an electronic tracking system that alerts men by text message when their wife is leaving the country, even if they are traveling together. The system was swiftly condemned by activists and Twitter users.
Saudi women – banned in the country from driving, denied the right to travel without their husband's consent and required to wear a veil from head to toe – are now to be monitored by a new electronic system that tracks cross-border movement, AFP reported.Woman in Saudi Arabia are not allowed to leave the ultraconservative kingdom without the permission of their male 'guardian,' or husband, who must give his consent by signing a register known as the 'yellow sheet' at the border or airport. Now, husbands will receive a text message to remind them even if they're traveling outside the country alongside their wife.The move was quickly condemned and ridiculed on Twitter, which has remained an island of free speech in the repressive Islamic nation:"Hello Taliban, herewith some tips from the Saudi e-government," one user wrote."If I need an SMS to let me know my wife is leaving Saudi Arabia, then I'm either married to the wrong woman or need a psychiatrist," user Hisham wrote."Why don't you cuff your women with ankle bracelets too?" user Israa joked. User Raza Ahmad quipped, "Good going Saudi Arabia, what's next chastity belts?""The authorities are using technology to monitor women, it would be better for the government to busy itself with finding a solution for women subjected to domestic violence," columnist Badriya al-Bishr said, criticizing what she called the "state of slavery under which women are held."Saudi Arabia is the only country in the world where women are not allowed to drive. In June 2011, female activists lead by Manal al-Sheif launched a campaign to defy the ban. But many were arrested and forced to sign a pledge that they would never drive again. In a similar incident in November 1990, 47 women were arrested after staging a demonstration in their cars. King Abdullah, seen by the West as a cautious reformer, granted women the right to vote and run in municipal election beginning in 2015. Also, the newly appointed chief of the religious police commission – which enforces Saudi Arabia's severe version of Sharia law – Sheikh Abdullatif Abdel Aziz al-Sheikh, banned members of the commission from harassing Saudi women over their dress and behavior.But these signs of a more lenient attitude towards women have done little to dent a widely repressive and patriarchal culture. The kingdom enforces strict rules governing interactions between the sexes, and the many restrictions placed on Saudi women have led to high levels of female unemployment, estimated to around 30 percent.Suicide rates among young Saudi women are also some of the highest in the world, with many attempting to take their lives "when they realize that their right to choose with their own free will is denied," an anonymous female doctor in the Saudi city of Riyadh said in a 2011 interview."Saudi women are treated as minors throughout their lives, even if they hold high positions, there can never be reform in the Kingdom without changing the status of women as equals to men," liberal activist Suad Shemmari told AFP.
You can share this story on social media: