Crimea 'chill' in Russian-Western relations will be short-lived – Russia's UN envoy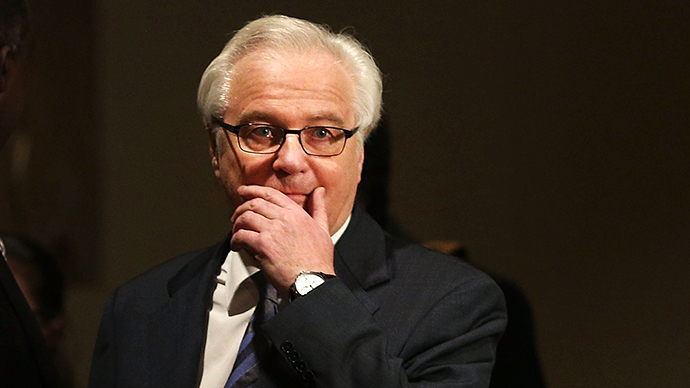 The "chill in relations" between Russia and the West over the accession of Crimea will not last long, historically speaking, Russia's envoy to the UN said. He added that there is no risk of a new Cold War situation developing.
"Cold War – of course not," Vitaly Churkin told NTV news channel when asked whether relations between Russia and the US could deteriorate to the point of a new Russia-West Cold War.
"However, there is probably a certain chill in our relations with the West. At least to me, it looks like it from New York, from the United Nations building," the diplomat said. "I don't think this chill will be long, historically speaking."
According to the UN envoy, "the anti-Russian rhetoric that Moscow's Western partners are practicing hides their confusion, their disappointment, to put it mildly, at what has happened as a result of their rash actions in Ukraine."
At the same time, Churkin stressed that recognition of Crimea's new status by the international community is just a matter of time and requires no additional efforts from Moscow.
"This is a new geopolitical fact," Churkin said. "Some are energetically protesting it, but it's that kind of a situation when more time is required. I think it should be treated calmly and we must continue explaining what has happened. This is already resultative."
Churkin slammed the West's "routine practice" of exerting pressure while addressing some countries ahead of voting at the United Nations General Assembly.
"For instance, when the General Assembly was voting on the notorious draft resolution [on the situation in Crimea]," he said. "We know that our Western partners used their routine practice when they addressed countries, say, African or Asian. They put it quite straight: 'We are providing economic aid to you. You enjoy these or those preferences in relations with us, so you must vote in favor of this resolution.'"
"We never use such methods," Churkin stressed.
Relations between Russia and Western countries, in particular the US, have significantly deteriorated over the political crisis in Ukraine. Following an armed coup in the Ukrainian capital, experts began pointing out that relations between the two states had hit their lowest point since the end of the Cold War. Crimea's March 16 referendum, in which the majority of residents voted to join Russia, further strained the relationship between Washington and Moscow.
The US and Russia have exchanged sanctions, targeting officials from both sides.
Washington's sanctions include travel bans and foreign asset freezes of Russian politicians and businessmen who the US consider to be part of President Putin's inner circle. Russia imposed retaliatory sanctions against 10 US officials.
Canada and the EU joined the US in introducing sanctions against Russian and Ukrainian officials over the referendum. After two rounds of sanctions, the EU's official list includes 33 people. The West is threatening even more sanctions against Russia if the situation in Ukraine deteriorates.
NASA also suspended"the majority of its ongoing engagements with the Russian Federation," except operations at the International Space Station (ISS).
Earlier, the US Office of National Drug Control Policy also halted its cooperation with the Federal Drug Control Service of the Russian Federation (FSKN), citing "the continued violation of the sovereignty and territorial integrity of Ukraine."
You can share this story on social media: