Not 'lovin' it' in Crimea: McDonald's suspends operations for 'manufacturing reasons'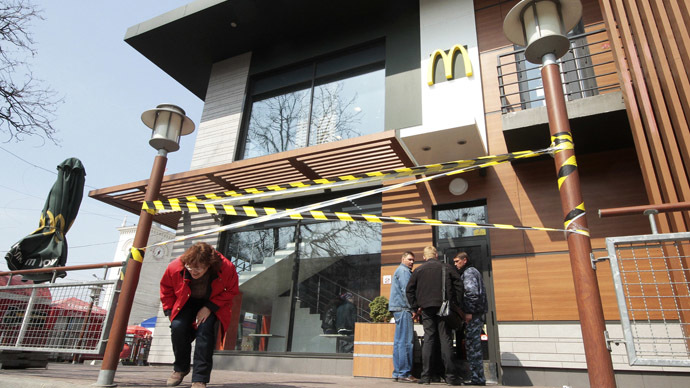 ​Ukrainian McDonald's Ltd, a subsidary of the world's largest fast food chain, has temporarily closed its doors in Crimea because of "manufacturing reasons."
"Due to reasons beyond the control of the company, business activities have been suspended in Simferopol, Sevastopol, and Yalta," said a company statement posted on the Ukrainian website.
The company hopes to resume operations at the 3 restaurant locations in Crimea, but has offered to relocate employees to other Ukraine sites; offering to cover their expenses including 3 months of housing.
If employees are not able, or choose not to relocate, severance packages will be negotiated.
McDonald's European headquarters said the closure was due to "operational reasons beyond our control" but did not commenting on whether the closures are linked to growing US-Russia tension over Ukraine. The spokesperson added support for employees remains a priority.
$10 million investment
According to a Kiev-based restaurant consulting group, losing the three restaurants would only result in a 5 percent loss for McDonald's Ukraine Ltd, where the average daily revenue for each restaurant is about $8,800 (100,000 UAH).
"Calculating net income at about 30 percent of revenue, with the Crimean restaurants remaining closed the American corporation will lose $240,000 (UAH 2.7 million) in profits each month," Olga Nasonova, director of Restaurant Consulting, told Russia Forbes.
According to Nasonova, the American corporation has invested about $10 million in the three sites.
A McDonald's restaurant was first opened on May 24, 1997 in Kiev, and the company now has 79 restaurants in 23 cities across Ukraine. McDonald's is the fifth most popular restaurant for Ukrainians, according to Nasonova. There are more than 300 restaurant locations in Russia.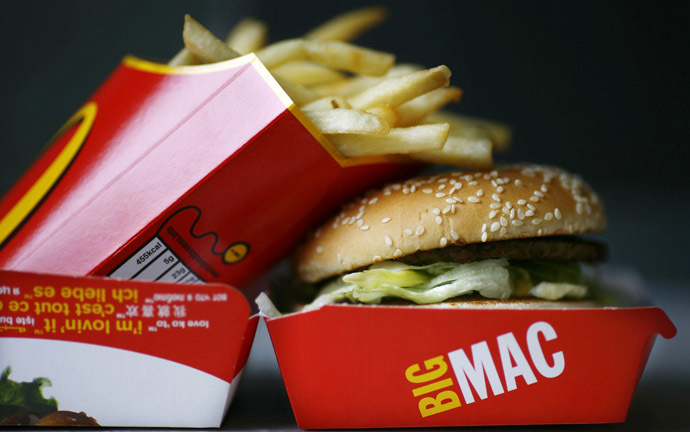 One location, situated next to the Simferopol train station, is one of Ukraine's busiest branches. In the summer, McDonald's in Crimea are packed with tourists, which provide a backbone of the peninsula's economy.
"There are many Russian restaurant and cafe chains that could quickly take over the open niche," Crimea's First Deputy Prime Minister Rustam Temirgaliev said Thursday, as quoted by Interfax.
McDonald's attempted to open a restaurant in Abkhazia, a breakaway republic of Georgia, but faced troubles from the Georgian franchise owner.
Sanctions and sandwiches
The Crimean peninsula, which voted to join the Russian Federation on March 16, still receives more than 80 percent of primary goods from mainland Ukraine. Since the split, there has been a sharp increase in food prices sourced from Ukraine.
The Crimean economy is transitioning to operate in accordance with Russian law. Assets are switching hands to Russian companies, and the ruble is replacing the hryvnia.
If the restaurants reopen, they would likely have to join a Russian McDonald's chain, which include franchises Moscow McDonald's or OOO McDonald's. The three now-closed restaurants in Crimea were operating under McDonald's Ukraine Ltd.
The US doesn't accept the legality of Crimea's reunification with Russia, and still recognizes it as part of Ukraine, which creates legal uncertainty for the fast food outlets.
In response to the reunification, the US and EU have imposed economic sanctions against Russian individuals and businesses. Russia has responded by distancing its economy from dollar influence, which has stirred concern among Western companies doing business in Russia and Crimea.
You can share this story on social media: