US threatens China over territorial disputes, cites sanctions on Russia as example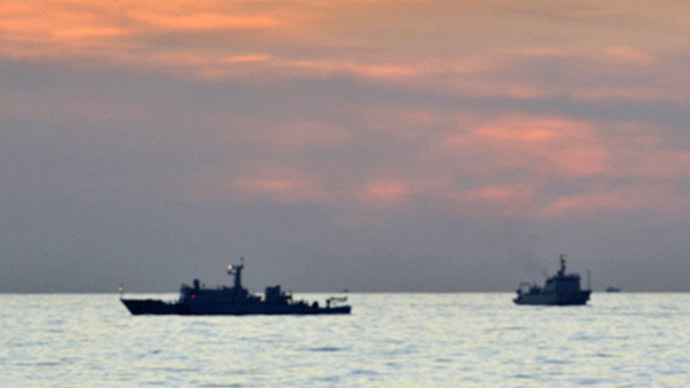 The US gave a strong warning to China not to escalate territorial tensions in the Asia-Pacific region if it doesn't want to face American retaliation. In his statement, a US official used sanctions on Russia over Crimea's accession as an example.
Although it's difficult to gauge China's response at this point, more pressure needs to be brought to bear for them to abide by diplomatic principles for settling territorial disputes, came the advice from the US assistant secretary of state for East Asia, Daniel Russel, speaking to a meeting of the Senate Foreign Relations Committee.
Regarding how to make China comply, the top official had a ready solution, saying that the recent sanctions imposed by the US and EU on Russia should have "a chilling effect on anyone in China who might contemplate the Crimea annexation as a model," Reuters reports.
Russel believes that the added effect of punishing China in this way would be compounded by its economic interdependence with the United States. But these remarks got a prompt reaction from a Chinese Foreign Ministry spokesman, Hong Lei, who accused Russel of confusing two different issues.
Speaking to a news briefing on Friday, Hong said that "No matter whether it's the Ukraine or the South China Sea issue, China has many times expressed its position. Why must this US official mention the two issues in the same breath, and obstinately say these things about China?"
The spokesman was referring to maritime and land border South China Sea disputes the country has with Japan, Taiwan, the Philippines, Vietnam, Malaysia, Brunei and Indonesia.
China has recently deployed a sizeable number of war ships in the disputed waters with the Philippines, which in turn filed a complaint against China on Sunday for the deployment.
Russel says this "appears to be intimidating steps" to the US, adding that "it is incumbent on all of the claimants to foreswear intimidation, coercion and other non-diplomatic or extra-legal means."
He clarified his argument by saying that the US has no problem staying out of China's territorial disputes, and was simply warning China not to make any wrong moves that might land it in hot water. Especially in view of the fact that the US has active defense cooperation deals with the Philippines, South Korea and Japan.
"The president of the United States and the Obama administration is firmly committed to honoring our defense commitments to our allies," Russel explained.
He still did not make it clear what kind of defense commitments he was talking about and how the US will "honor" them. If this means imposing sanctions, a favorite US strategy to make an influence, there are no guarantees this would in fact work.
In the Russian case, US sanctions imposed on the country over Crimea, which Russel cited as an example, so far, seem to have had little effect on Russia's firm position on Crimea, but did provoke sarcastic comments from Russian politicians involved.
President Obama will be visiting Japan, South Korea, Malaysia and the Philippines starting April 22, when he will reassert America's support for strategic and economic partnerships in the Asia-Pacific region.
But it remains to be seen how successful diplomatic means will be at restoring trust among regional players, when games of tit-for-tat over territories are commonplace.
On Friday, China, together with South Korea, issued condemnation of new Japanese school textbooks which stated that disputed islands were in fact Japanese. This led South Korean First Vice Minister Cho Tae-yong to contact Japan's ambassador to Seoul to voice discontent, and warn that such measures would lead to worsening ties between the two countries.
You can share this story on social media: