Russia emerges victorious in U17 football finals against Italy
Published time: 18 May, 2013 01:11
Edited time: 18 May, 2013 02:35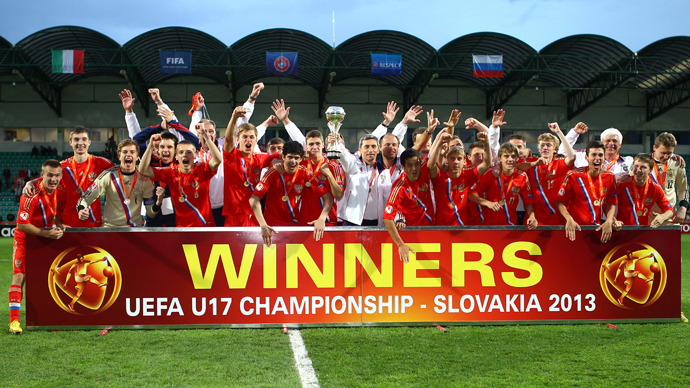 The Russians have claimed the Under-17 title for the second time with a 5-4 win on penalties after regular time produced no score. Goalkeeper and Captain Anton Mitryushkin made the crucial saves to lead his side to victory against Italy in Zilina.
After 80 uneventful minutes where neither team could find the net, Russia's captain saved from Italy's Davide Di Molfetta, Giacomo Sciacca and Andre Palazzi. This paved the way for a sudden death kick from Sergei Makarov, sealing the win.

Some have made the comparison to Russia's historic penalty win in 2006, when Dmitry Khomukha used the same tactic to beat Sweden. That was Russia's first time in the finals.

For Italy's part, their best game of the tournament was considered to be in the semi-finals. They carried their offensive style into the first half of the current game, but Mitryushkin managed to keep the ball out and the scores level. 
Although it appeared that the teams weren't playing to their full potential, whenever a chance for a breakthrough arose, it was usually the Russians.
Their substitute Aleksei Gasilin couldn't get the ball past Palazzi's blocks, while Danila Buranov hit the post with free-kick late in the game. When the time came for penalties, Russia got off to a perfect start as Mitryushkin saved the opening kick from Di Molfetta. The team kept its nerve and with four successes from the spot secured the title.
The victory should hopefully inject some optimism into Russian football ahead of the 2018 FIFA World Cup, which the country will be hosting for the first time ever, as well as it being the first time the event is held in Eastern Europe. Russia won the bid in 2009.