2018 World Cup may bankrupt Russian cities - S&P
Published time: 18 Apr, 2013 11:59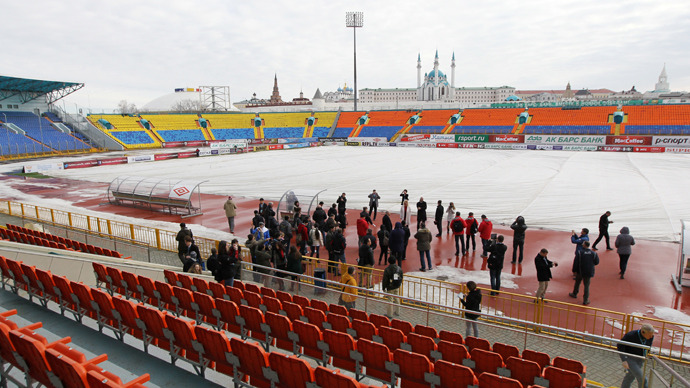 The current poor state of municipal infrastructure in most of the 2018 World Cup host cities in Russia means the country will struggle in order to rise to the occasion, warns ratings agency S&P.
Seven of the 11 Russian host cities will have to receive much more support from the federal government than is now planned, the agency said.


Only Moscow, St. Petersburg, Kazan and Sochi are likely to avoid troubles during the preparations, while among the remaining seven, those facing the biggest difficulties are Kaliningrad, Samara and Saransk, the report reads.
The biggest problem, according to S&P, is the lack of new venues, metro lines, roads, airports and utility upgrades in most of the cities. Russian local government assess the total cost for the 2018 World Cup at around $43 billion, while the federal government estimates the figure to be half as much. It is already much higher than Brazil's budget of $13.6 billion for the 2014 World Cup.
The forecasts aren't surprising though, as Russia is used to high spending preparing for major events. The 2014 Sochi Olympics will eventually cost the country around $50 billion, making it the most expensive Olympics ever, significantly higher than the $14.3 billion spent by London in 2012.
The main reason behind such an overspend is Russia's rampant corruption, which is particularly high in road construction and other building projects according to S&P.
Add to that ''slowing economic growth, material spending pressure triggered by a presidential call for public salary increases and very modest fiscal flexibility'' and you will see how difficult it will be for Russia to put up with the budget pressure.
However, president of the European football governing body UEFA Michel Platini is not that pessimistic. On Wednesday, he met with Russian President Vladimir Putin in Sochi after touring some 2014 Olympic construction sites with Russia's Sports Minister Vitaly Mutko.
''In any case, I can state that the work is going ahead,'' the Russian news agencies quoted him as saying.