Torn from the breast: Finns allow Russian mom only 1 visit per month with newborn
Published time: 2 Oct, 2012 16:07
Edited time: 2 Oct, 2012 23:40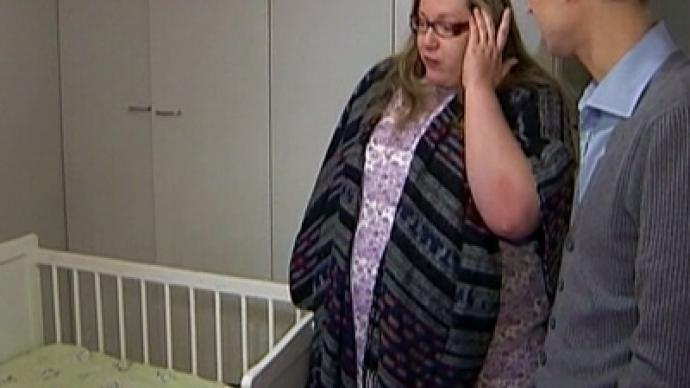 Social services in Finland have granted a Russian mother only monthly dates with her newborn, removed from her on suspicion of abuse, i.e. without court orders. No arrangement was made for her breast milk to be passed over to the 10-day-old boy.
­In Finland, if social workers suspect child abuse they first take children away and put them into a foster family, then investigate. While in extreme cases this might hold as the only viable solution, other instances are rather likely to raise eyebrows, since forced separations of families can do more damage to kids than actually staying with parents.

The case of Anastasia Zavgorodnyaya, 29, who enjoys dual citizenship in Russia and Finland, is just one of those controversial issues.

Her children were taken away by social workers of the Finnish town Vantaa after her daughter Veronika allegedly told doctors that her dad "slapped her below the waist." In the end, Anastasia's all four kids were put in custody and then, as some sources report, sent to a foster family.
Anastasia and the children will have to wait six months for an administrative court hearing. Finnish law allows her only one visit per month with her children – through bars, under supervision of guards and with no Russian to be spoken.

"Seeing your child once a month only is a norm for the authorities," says Johan Backman, a Finnish human rights activist. "Their aim is to make kids forget their parents as soon as possible. They forbid any conversation in Russian so that the kids would also forget the language."
Still frame from Russia's Channel 1 video shows Anastasia Zavgorodnyaya's new born son
Anastasia says she receives no clarification from the authorities. She preserves breast milk for her newborn son, who was born on September 28 and was immediately removed from her. But, according to Backman, "the social services have declared they'd throw [the milk] away."

"Everyone understands the social service has made an improper decision, but only a court can over[rule] that," Zavgorodnyaya told Rossiayskaya Gazeta. But even if the court rules in her favor, this will be far from the happy ending.
"They will put us on their tracking list and monitor every step. Any complaint, any anonymous call from a drunken passer-by to the hotline will deprive us of our children without any investigation – till another court hearing," she says. The only plan for the moment is to get her kids back and return to Russia.
Russia decries Finnish social workers' 'systematic' overreaction
Zavgorodnyaya's story caused uproar in Russia, reaching the highest levels of diplomacy. The Foreign Ministry insists their representative should meet the social service of Vantaa and see what can be done.
This initiative is yet to be put through with Finland hesitating to meet Russian officials. It provoked a bitter statement from the Russian Foreign Ministry, which accused Helsinki of "unconstructive behavior."
Moscow pointed out that the practice of Finnish authorities taking children away from Russian families residing in the EU-member state has taken "a systematic" turn and that social workers immediately jump to the harshest measures possible "even when this can be avoided."

"It looks like referring to 'confidentiality' and 'supreme competence of social services' Finland is trying to cover up their unwillingness to go to the core of the incident," reads the message on the ministry's official website. It also called into attention recent "deplorable" findings of the EU Human Right Commission, which reported that Russian residents are among "the most frequent victims of racism and xenophobia in Finland."

The Finnish social service insists taking children away from Zavgorodnyaya's family was nothing unusual and went according to procedure. Such decisions are "taken in every case where there is a suspected threat to a child's well-being."
Still frame from Russia's Channel 1 video shows Anastasia Zavgorodnyaya's oldest daughter, Veronika, who was taken away by social services on child abuse suspicions
The Finish Foreign Ministry stressed that their country does not discriminate against children by nationality. But their statement nevertheless admits that taking children from their family is "the last measure" which should be taken while protecting kids' welfare. Urgent cases may require a 30-day custody period to allow time for investigation; this term can be prolonged for 30 days more, the ministry said, but all-in-all, preference is given to family support.

Finland's Ministry of Social Affairs and Health, however, states that they have not found anything in Vantaa services' actions which should require their attention.

Moscow insists on the urgent creation of a bilateral body to deal with such issues. Children's Ombudsman Pavel Astakhov says that Finland's refusal to cooperate could force Moscow out of several agreements with Helsinki; Russia could even impose an embargo on Finnish goods, he added.

Such a body might as well come useful seeing that Tuesday another Russian-born woman residing in Finland saw her kids taken away by social workers. Albina Kasatkina was deprived of her six-year-old son and five-year-old daughter after her ex-husband complained to the authorities she had been beating the kids. Though police failed to find any signs of mistreatment, says human rights activist Backman, the children were still passed over to a foster family.
Still frame from Russia's Channel 1 video shows Albina Kasatkina
Still frame from Russia's Channel 1 video shows Albina Kasatkina's two kids taken away by social services on child abuse suspicions