Closer to god: Tajik president's speech to be explained in mosques
Published time: 10 May, 2013 15:58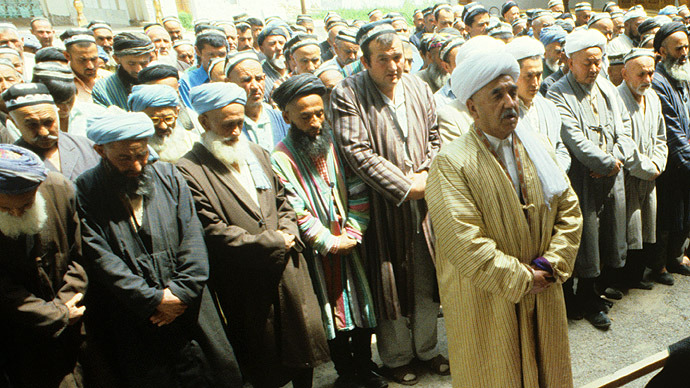 The Imams in the mosques of Tajikistan have been instructed to explain to their congregations during Friday payerers a summary of President Emomalii Rahmon's April address to parliament, Tajik media has reported.
"The message of the President of Tajikistan is aimed at all of the citizens. It is a program of action and we can't remain on the sidelines," Mavlon Mukhtorov, deputy chair of the Committee for Religious Affairs told Intefax.

The official explained that the majority of those who attend the country's mosques voted for Rahmon and therefore have the right to be informed of what the head of the state says.

According to Mukhortov, the Committee on Religious Affairs has already set up a working group to hold talks with the Imams in charge of the mosques on how they could communicate the president's April address clearer to believers.

The Friday prayers were likely chosen for political purposes, as they have the highest attendance rate. It is believed that Muslims, who are silent during the sermon, receive forgiveness for sins committed the previous week.  

Not all Tajik Muslims were happy with the new government initiative.

"I come to the mosque in order to pray to Allah, but not to listen to political statements from a particular party. When I want to know something about politics, I buy a newspaper or turn on the TV," a worshipper said.


Rahmon's four-hour address to the Tajik parliament on April 26 was dedicated to issues of domestic and foreign policy, as well as developments in the economy and the social spheres. During the speech, the head of the state promised that salaries, pensions and scholarships in the Central Asian state would grow three-fold by 2020.

Rahmon has served as Tajik president since 1994, with the 60-year-old claiming 79.3 percent of the votes in the most recent election in 2006. New elections are scheduled to take place this year, and the Rahmon will likely run for office again.

A single person can hold the presidency for two terms in Tajikistan, but Rahmon is still eligible to take place in the election. A 2003 referendum increased the presidential term to seven years, and de facto annulled Rahmon's previous time as president, making his current term his first.

The vast majority of Tajikistan's population is Muslim, with Hanafi Sunni Islam officially recognized by the government in 2009. There are around 3,000 mosques in the country, which has a population of over 7.5 million, according to the 2010 census.