Russian test for migrants 'not discriminatory' – Medvedev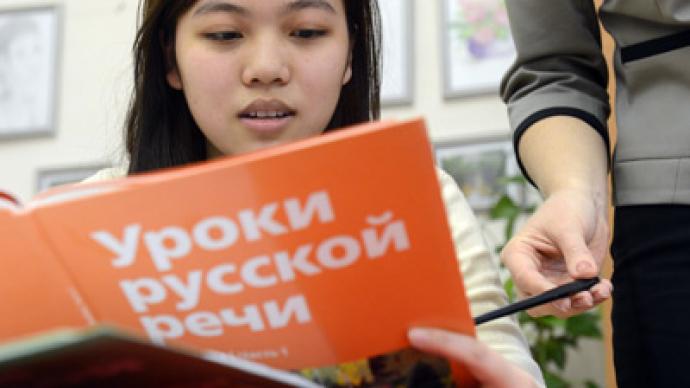 Prime Minister Dmitry Medvedev sees no discrimination in a law obliging all migrant workers arriving in Russia to pass a test of their knowledge of the local language and culture.
"It's absolutely normal. Such a practice exists in the majority of foreign countries. At least in countries that care about their future," Medvedev stated on Tuesday, during a meeting with the members of parliamentary parties.Currently, migrants working in Russia in housing, utilities, sales and public services have to demonstrate only basic knowledge of Russian when getting work permits. This does not refer to citizens of Belarus and South Ossetia – where Russian has the status of official language. Now the lawmakers propose toughening the rules. Under the proposed bill, exams in Russian language, history and legislation basics will become compulsory for all foreigners who come to the country to work or live.
Medvedev welcomed deputies' initiative, saying that Russia needs the creation of a civilized labor market. First of all, the country should attract professionals to fill vacancies from in-demand occupations list, the PM stressed. However, mainly unqualified workers have been coming to Russia so far. Often then can hardly speak any Russian and do not know the local culture or traditions, which "leads to conflicts and, unfortunately, crimes," Medvedev conceded.The proposed exam would cost migrants up to 5,000 rubles (about US$165).However, the requirement will refer only to low-qualified workers, not highly-skilled professionals.The majority migrants come to Russia from former Soviet republics – primarily Tajikistan, Uzbekistan, Kyrgyzstan and Moldova – to seek better living conditions or simply to earn some money to support their families at home. Only about 2 million of Russia's estimated 10 million migrant laborers work in the country legally. But as the inflow of foreigners rises in Russia, so does the anti-immigrant sentiment.
You can share this story on social media: