Pussy Riot whipped by Cossacks in Sochi performance fail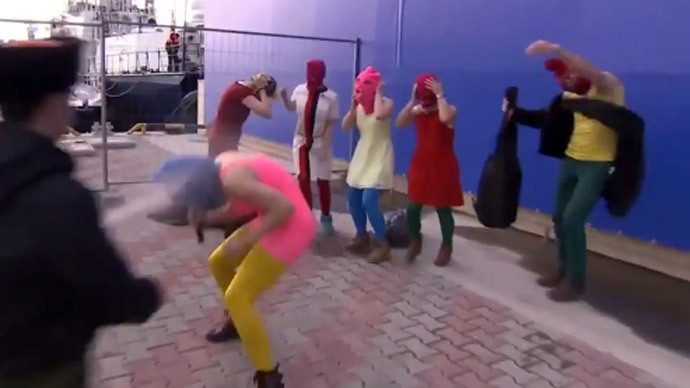 Members of the controversial Pussy Riot band have been attacked by Cossacks with batons, pepper spray and whips, as the young women attempted to perform a song near the seaport in the Olympic host city, Sochi.
Nadezhda Tolokonnikova and Maria Alyokhina said on Twitter that the attack occurred as they, along with several other band members, were singing their song in front of a banner advertising the 2014 Winter Olympics.
"Near the Sochi 2014 banner singing 'Putin will teach you to love fatherland' Pussy Riot were attacked by Cossacks, whipped and thoroughly sprayed by pepper gas," wrote Tolokonnikova, who was recently released from jail.
Alyokhina said that one of the band members had his eyebrow injured as a result of the "attack" and posted a photo of Tolokonnikova's bruised chest after the "Cossacks' batons."
Aleksandr Tkachev, the governor of the Krasnodar Region, expressed his regret over the incident and demanded it thoroughly investigated.
"Absolutely all of those responsible for what has happened should be punished," Tkachev said.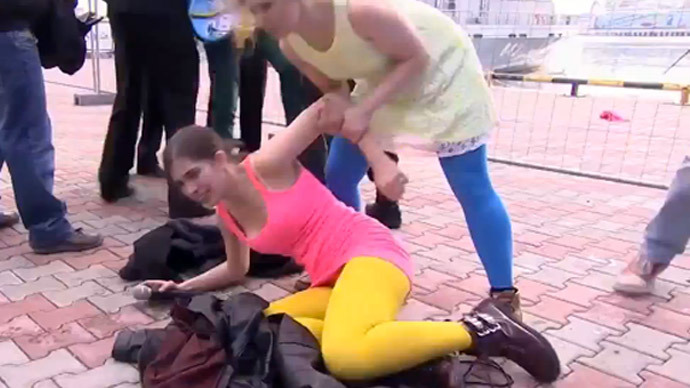 On Wednesday, the group had gathered in a downtown Sochi restaurant, about 30km from where the Winter Olympics are being held, according to Associated Press. The activists ran out wearing their trademark 'uniform' – brightly colored dresses, tights and balaclavas – and were approached by about a dozen Cossacks.
Alyokhina claimed in her twitter that police "did not react" to the attack. However, the Sochi police press service said that they took "all necessary measures to stop the scuffle," reports Interfax.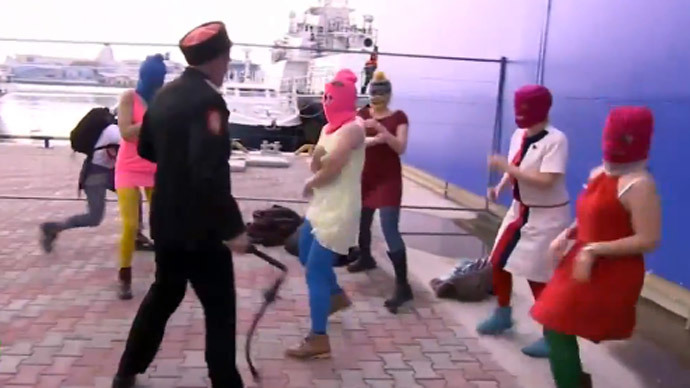 This latest scandal comes just a day after Tolokonnikova and Alyokhina were briefly detained in Sochi for questioning over a theft in the hotel they were staying in. After being released shortly later, they claimed they were beaten up by police.
The former Pussy Riot members, Tolokonnikova and Alyokhina now describe themselves as rights activists. Both young women served two-year jail terms for hooliganism after performing the so-called 'punk prayer' in Moscow's Christ the Savior Cathedral in February 2012.
You can share this story on social media: