Dubai court incarcerates UK trio on drug charges amid torture claims
Published time: 29 Apr, 2013 13:11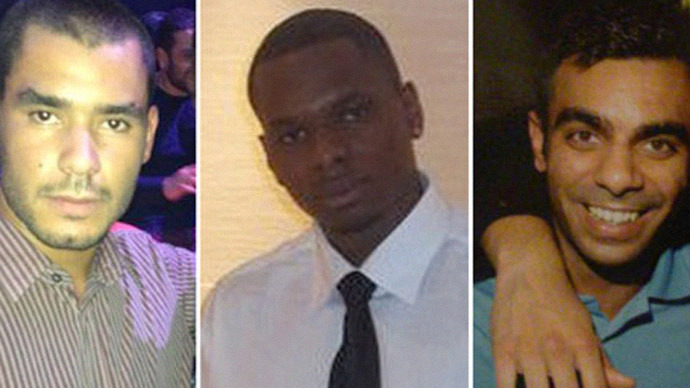 A UAE court has sentenced 3 Britons to jail for possessing illegal drugs after UK PM David Cameron voiced concerns over police torture allegations. The trio has pleaded not guilty, and claimed they were tortured by Emirates police.
The three Londoners – Karl Williams, Grant Cameron and Suneet Jeer – will be jailed for four years and then deported from the United Arab Emirates. The men were taken into custody by the police last July while they were on holiday.

Officers said the men were carrying 'spice,' a synthetic form of cannabis, in their rented car and accused them of possession with intent to distribute.

The Britons have denied the charges, and claimed they were tortured by Emirate police who forced them to sign confessions written in Arabic, a language none of them understand.

Grant Cameron was reportedly separated from the other two men after being apprehended in the desert, tasered, and told he was going to die, according to UK press reports. All three were then allegedly taken back to their hotel where they were tortured individually.

"For 45 minutes they were tasered, beaten around the head and handcuffed before they were taken back to the hotel where Grant was staying. They were put in separate rooms and had guns held to their heads. They were told they would be killed and told they would never see their families again," Cameron's mother told the Press Association in a statement.

A formal complaint was made to the UK Foreign Office last year appealing for an independent investigation into the allegations of torture. UAE authorities denied the men's accusations after Officer Osman Ali Abdulla, who participated in the arrest, said in a court hearing in March that they had been treated well and were not abused.

Prior to the UAE's ruling, UK Prime Minister David Cameron addressed the case in a letter to Reprieve on Sunday, expressing concern over the authorities' failure to organize an independent medical investigation.

"We continue to press for evidence for a full, impartial and independent investigation into the allegations. The absence of an independent medical examination remains a concern," Cameron wrote.

Cameron said he would discuss the issue during his meeting with UAE leader Sheikh Khalifa bin Zayed Al Nahyan during a state visit on Wednesday.

The British Foreign Office said it has provided consular assistance to the three men after they were taken into custody in the summer of last year, and raised the torture allegations at "the most senior levels."

The UK and the UAE enjoy a lucrative defense partnership. Last year, Prime Minister Cameron sealed a deal to sell around 60 Typhoon fighter jets to the Gulf nation in a multi-billion-pound agreement.