Paris sees second day of mass student protests over immigrant deportations (VIDEO)
Thousands of French teenagers protested for the second day over the public deportation of an Albanian-Kosovar girl and an Armenian student. The issue caused disruption in 50 schools across France.
Teenagers clashed with police, who used tear gas against the high-school students.

Students climbed bus stops and shouted demands for the interior minister Manuel Valls to leave office. According to France 24, one school became a scene of green garbage cans piled on top of each other, while above hung a banner with the words 'Education in danger.'
The catalyst for the event was the expulsion of a 15-year-old Romani girl, a native of Kosovo. Leonarda Dibrani was forcefully taken off a school bus in front of her classmates while the group was on a trip earlier this month. The incident took place in the eastern town of Levier.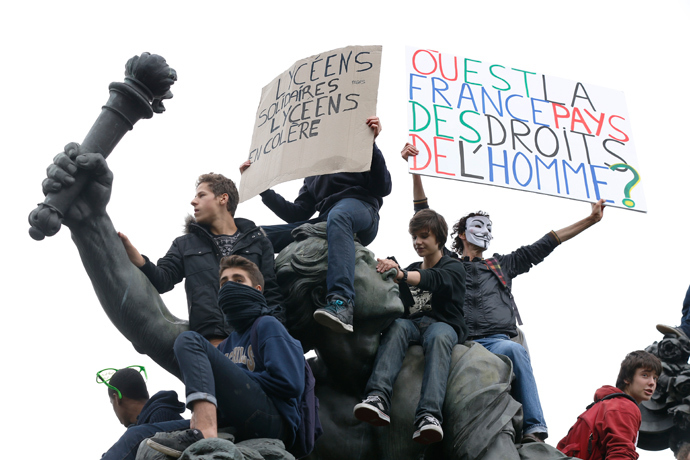 Protesters demanded that Dibrani and the other expelled student from Armenia, Khatchik Kachatryan, be allowed to return to France to continue their studies.

"We're here first of all because of Leonarda and Khatchik," Laure Anderson, who is in her final year of high school, told FRANCE 24.

"But we're also here to express our disappointment in a leftist government that should be acting like a leftist government."

François Fourn, a history and geography teacher at a central Parisian high school, said he had come to the rally with his students.

"I am shocked that we are deporting students," he said.

"Every child has the right to an education, no matter their nationality, religion or background. Without exception! It's unacceptable."

The government has chosen to deny asylum to her family of eight, forcing them to leave – a common picture in France these days, whose government boasted about kicking out more immigrants in 2011 alone than during any preceding years – 33,000 people. That figure is a staggering 17. 5 percent rise from 2010. 
Valls' policies carry on from his predecessor, Claude Gueant, a close ally of former President Nicolas Sarkozy and a hardliner on the issue of immigration.
The children who are deported along with their families have spent all their lives in France, sometimes having neither linguistic nor cultural ties to their lands of origin. Many French teenagers feel that they are simply being separated from their lifelong friends.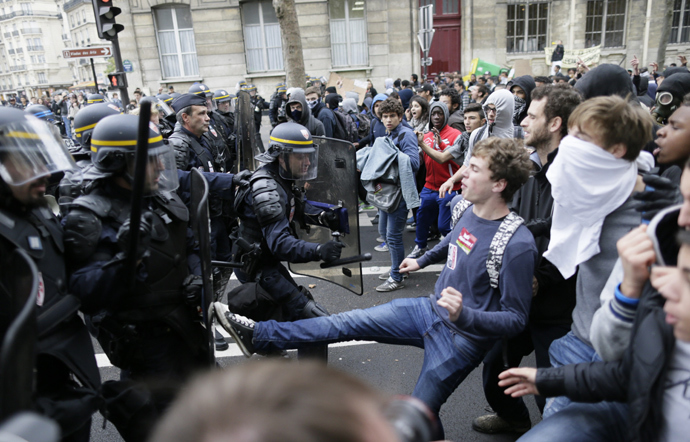 The expulsions have been going on for some time now, but Dibrani's case served as a tipping point, prompting human rights advocates to question France's long-held image in that regard. 

Spokesman for the FIDL high school union, Steven Nassiri, told reporters that "everyone has the right to an education," while other critics say the public nature of her treatment was 'inhumane.' 
Valls has subsequently launched an investigation into the incident in light of the fact that both the interior ministry and a teacher who bore witness to the arrest, claim the spectacle was not made public.
Dibrani was later interviewed in her hometown of Mitrovica, in the Serbian breakaway region of Kosovo. According to AP, she declared that her "home is in France…I don't speak the language here [in Kosovo] and I don't know anyone. I just want to go back to France and forget everything that happened."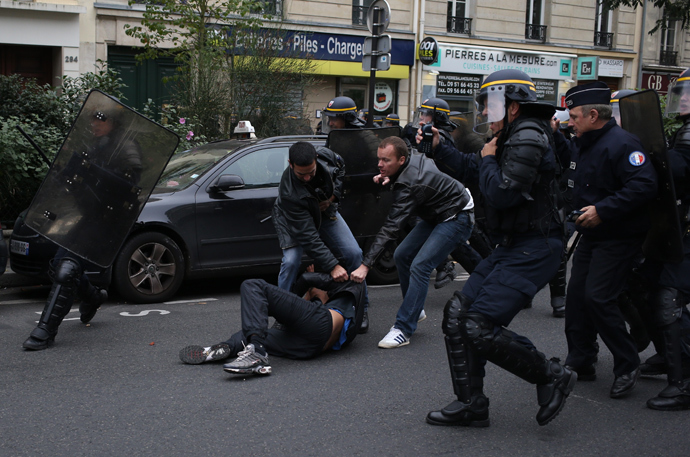 The interior minister's own socialist party has turned against him following Dibrani's deportation on October 9, which garnered public interest thanks to a report by an NGO.
Valls' view of the eviction was widely backed by opposition lawmakers over fears that reversing the policy would produce a signal that France is OK with illegal immigration. That is not the image the country with some of the strictest laws on immigration would like to project.

As the probe into the latest incident is underway, another, similar case has emerged, involving the deportation of a boy, 19-year-old Khatchik Khachatryan, back to Armenia on Saturday. He was a student at Paris's Camille-Jenatzy school.

The cause célèbre comes shortly after last month's remarks by the interior minister, which stated that the majority of the 20,000 Romani living in France are not interested in being integrated into its society, and therefore, should face deportation.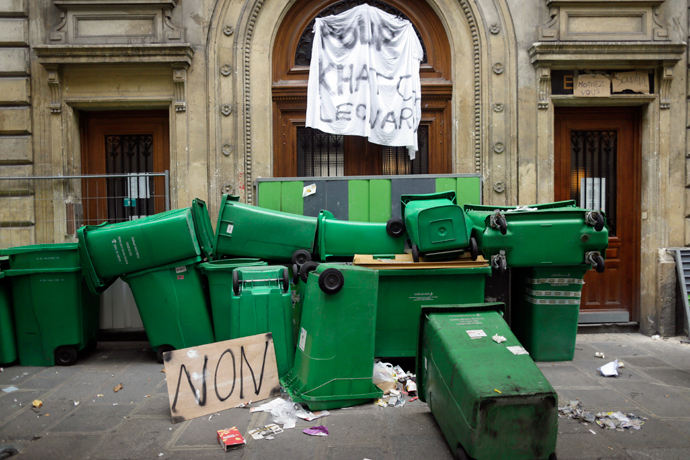 You can share this story on social media: