France may ban Muslim veil in universities amid 'escalating tensions'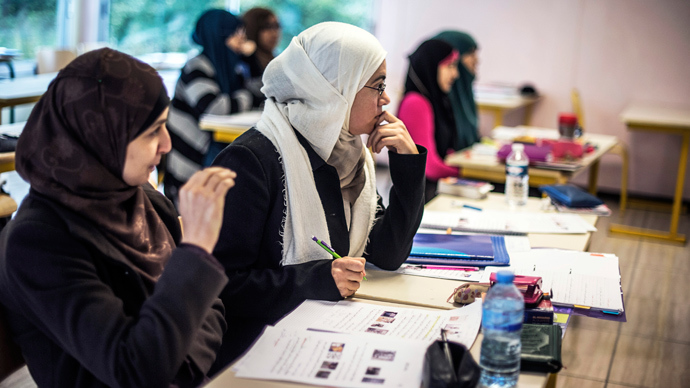 Momentum is growing in France for a ban on wearing religious symbols in the country's universities. A new report recommends prohibiting students from wearing religious symbols, such as Christian crucifixes, Jewish Kippah skullcaps and Muslim headscarves.
Due to "escalating tensions in all sectors of university life" the High Council of Integration (HCI), a research institute founded by the French government, has made 12 recommendations to ease religious tensions among students.

The report's key proposal would prohibit wearing religious symbols in "lecture theaters and [other] places of teaching and research in public areas at universities," Le Monde reported.

In 2004, France passed a law banning schoolchildren from wearing religious symbols, but the law excluded universities. The decision, the report claims, has proved successful in reducing problems stemming from religious differences in schools.

Now the HCI wants to see the same rules applied to universities.

According to interviews conducted in recent months by the authors of the report, some universities recently experienced tensions arising from demands to be "excused from attendance for religious reasons, …for separation of the sexes in lectures and seminars, instances of proselytizing, disagreements over the curriculum, and the wearing of religious clothes and symbols."

The report's authors, led by Alain Seksig, France's Inspector-General of National Education, said they were seeking to tackle a number of problems triggered by religious differences occurring at universities, and are looking to establish the respect of "religious neutrality" in French universities.

According to the report, the Education Code stipulates that "the public service of higher education is secular and independent of any political, economic, religious or ideological influence." The report's authors say they therefore "see no reason why higher education should enjoy the hypothetical status of extra-territoriality."

While there have been reports of students refusing to work in co-ed study groups, the HCI says freedom of expression "should not affect educational activities and public order."

France passed a related law in 2011, effectively banning the wearing in public of the full-face veil, the niqab. The ban also applied to the burqa, a full-body covering, if it covers the face. The law did not forbid the wearing of the hijab headscarf, however. At the time, Amnesty International condemned the law as violating freedom of expression for women who wished to wear the burqa. More than 60 people were arrested in Paris for holding an unauthorized demonstration against the law.

Late last month, French Interior Minister Manuel Valls defended the ban on wearing full-face veils in public places after a police check on a veiled Muslim woman sparked riots in a Paris suburb. An angry confrontation led to a police station being surrounded by several hundred people, with some hurling rocks. Six people were arrested during several hours of street violence.

"The law banning full-face veils is a law in the interests of women and against those values having nothing to do with our traditions and values. It must be enforced everywhere," Valls told RTL radio after the incident.
The influence of Islam has been growing in France, which boasts Europe's largest Muslim population, estimated at around 5 million people. According to French Interior Ministry figures, a much smaller figure - between 400 and 2,000 women - wear the veil. However, the law is scarcely enforced as police seek to avoid confrontations in poor neighborhoods with high Muslim populations, Reuters reported.

You can share this story on social media: