​Obama ignores Saudi human rights record in meeting with King Abdullah
Despite mounting concern over human rights abuses in Saudi Arabia, the subject was not introduced in a meeting between US President Barack Obama and Saudi King Abdullah on Friday, according to a US official.
In a meeting at the 89-year-old king's lavish residence at Rawdat Khuraim, northeast of the capital, Riyadh, Obama and Abdullah met for more than two hours. Much of the conversation focused on Iran and Syria, leaving no time to raise human rights issues, Reuters quoted an official as saying.
"Today, given the extent of time they spent on Iran and Syria, they didn't get to a number of issues, and it wasn't just human rights," the official said.
Human rights groups had urged Obama to mention a controversial new anti-terror law in the Saudi kingdom that any act that undermines the security of the state may be treated as an act of terrorism. The legislation comes as Saudi leaders look to increase their grip on power following the "Arab Spring" that swept away many autocratic regimes in 2011.
"The new law is draconian in spirit and letter, and there is every reason to fear that the authorities will easily and eagerly use it against peaceful dissidents," said Adam Coogle, a researcher at Human Rights Watch.
Meanwhile, Alanoud AlFayez, a former wife of the Saudi ruler who fled to London after their divorce, has petitioned Obama in an effort to secure the release of her four daughters, whom she claims are being kept under house arrest.
"For 13 years, my daughters have been held captive," Alanoud told AFP.
"They need to be saved and released immediately. Mr Obama should take this opportunity to address these grave violations committed against my daughters."
The sisters – who are said to be held against their will in two mansions inside of a royal compound in the city of Jeddah – are between the ages of 38 and 42, with at least one said to be suffering from psychological problems.
Riyadh has rejected the allegations, saying the women are allowed to freely move about Jeddah, as long as they are accompanied by bodyguards.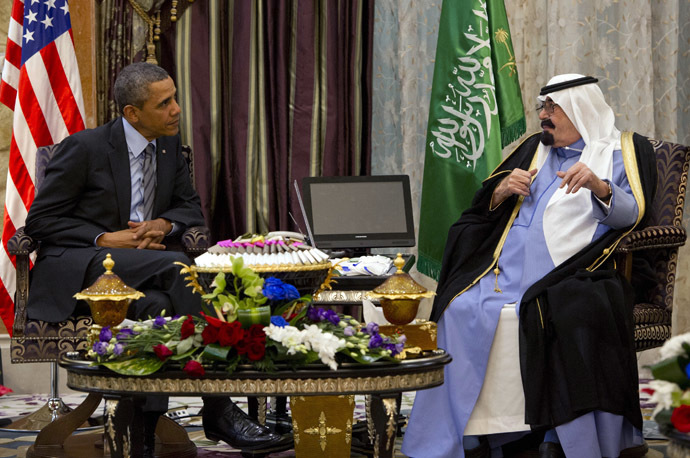 Saudi Arabia, where political power is centered on the monarchy, remains a long-term ally and oil supplier of the United States. And although Obama is apparently wary of addressing the human rights issue, King Abdullah had no qualms about expressing his concerns over the direction of US policy in the Middle East.
Fractures in the relationship between Washington and Riyadh, which Saudi officials described as a "major shift," began to appear last year over the Obama administration's willingness to conduct negotiations with Iran, which some countries in the region suspect of pursuing nuclear weapons under the guise of a civilian energy program.
There was also some disappointment in Saudi Arabia over Washington's decision not to intervene militarily in Syria, where a three-year civil war has left tens of thousands of people dead.
Although the two leaders mentioned their "tactical differences," they agreed that their "strategic interests" were aligned.
Obama sought to reassure King Abdullah that he would continue to support Syrian anti-government rebels and avoid any weak nuclear agreement with Iran.
The Washington Post reported Friday that the US was prepared to bolster secret aid to Syrian rebels under a new plan that could include CIA-sponsored training. A new Associated Press report also said that Barack Obama may authorize the shipment of new air defense systems to rebel forces.
Saudi state television broadcast pictures of President Obama, accompanied by US Secretary of State John Kerry and National Security Adviser Susan Rice, listening attentively to the aging King Abdullah, who appeared to be breathing with the assistance of an oxygen tube in his nose.
Although the US leader failed to personally address Abdullah on the human rights issue, Obama was expected to award Dr. Maha Al-Muneef with the Secretary of State's International Woman of Courage Award in Riyadh on Saturday, the White House said.
Maha founded the National Family Safety Program in 2005 to bring awareness to the problem of domestic violence in Saudi Arabia where women are oftentimes subjected to harsh treatment by their male guardians.
You can share this story on social media: