​Ex-wife of Saudi King asks Obama to help 'save captive daughters'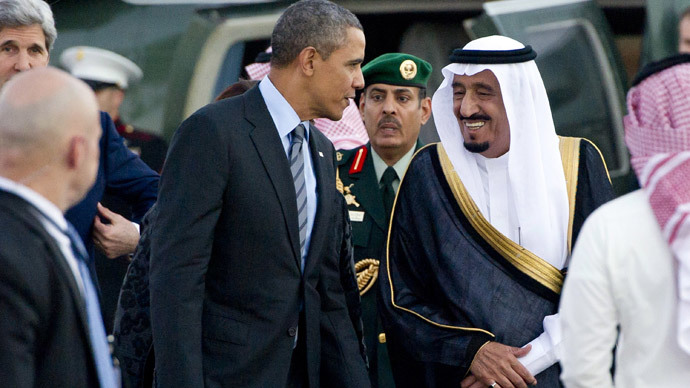 Alanoud AlFayez, a former wife of Saudi ruler King Abdullah who fled to London after their divorce has asked Barack Obama, who is in Riyadh, to help release her daughters. The four women claim they are being kept under house arrest.
"For 13 years, my daughters have been held captive," Alanoud told AFP.
"They need to be saved and released immediately. Mr Obama should take this opportunity to address these grave violations committed against my daughters."
The four women – who say they live in two mansions in a closed royal compound in the country's second city Jeddah – are between 42 and 38, with at least one suffering from psychological problems.
"We have no passports or ID, we are under house arrest, with little food left for ourselves and pets," Princess Sahar, the eldest daughter, told AFP in a letter.
She said her three half-brothers are her legal guardians, and exercise total control over their movements and public activities, as allowed by Saudi law.
"On their orders, they have been literally starving us since last Wednesday. We are now living on one meal a day, leaving the little remaining meat for our pets and sipping little water in this heat, to save up. Our energy is quite low and we are trying our best to survive."
Saudi Arabia has denied the allegations, saying the princesses are allowed to freely move about Jeddah, as long as they are accompanied by bodyguards.
The frail King Abdullah, officially 89, but perhaps even older, has fathered at least 38 children with multiple wives.
He married AlFayez, who is from a prosperous Lebanese family, when she was only 15. But the two fell out at the beginning of this millennium, and after several reconciliations, AlFayez escaped to the UK, fearful for her life.
She and her daughters say they have been punished as a form of retribution. Sahar has also said that they are being punished for daring to criticize poverty and violations of human rights in the oil-rich state in front of their father.
It is not clear what the US President, who is on his first visit to Saudi Arabia since 2009, could do about the situation, considering the raft of existing issues between the troubled allies.
Riyadh has been disappointed by Obama's reluctance to directly enter the Syrian conflict, and has been alarmed by the rapprochement with Iran, which it regards as its chief religious and political rival in the region.
Obama and King Abdullah met on Friday on an opulent farm outside the capital, where the elderly monarch spoke while breathing through an oxygen tube. The content of their talks was not made public.
In a statement to the media, Obama mentioned that the countries resolved their "tactical differences" over Syria, but did not mention human rights in the Gulf state. Obama will hold more meetings on Saturday, before departing the same day.
You can share this story on social media: