Clinical cover-up: UK spent over $22m silencing NHS whistleblowers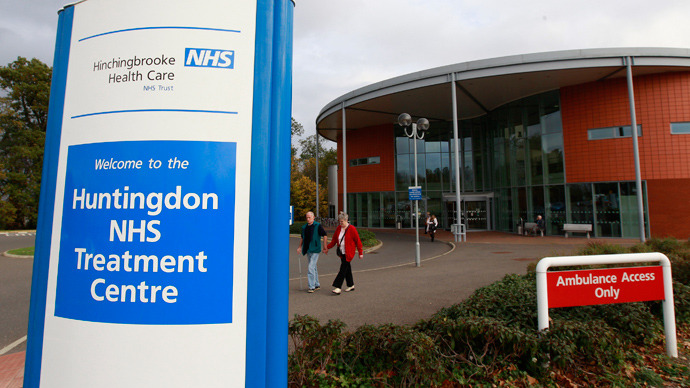 Britain's National Health Service (NHS) has found itself in the spotlight once again, after a Conservative MP uncovered that £14.7m ($22.4m) of taxpayer funds were used to silence whistleblowers. That's equivalent to the annual salaries of 750 nurses.
The figures show that around 90 per cent of the 598 NHS compromise agreements included gagging clauses, MP Steve Barclay told the Daily Mail. The findings cover a three-year time period up to 2011.
"These gagging clauses are having a chilling effect on whistleblowers," said Barclay, who is a member of the Public Accounts committee.

"It means that hundreds of potential whistleblowers may have been prevented from speaking out for fear of legal action, at a total cost to the taxpayer of almost £15 million ($22.9m)," he added.

The politician said the findings show that whistleblowers who want to speak out about the NHS are induced with taxpayers' money, and agree to sign away their rights to take their complaints any further.

"It is glaringly obvious that many NHS employees feel they are being silenced by non-disclosure clauses in their contracts," he said.  

Barclay has written to committee chairman Margaret Hodge, requesting that Sir David Nicholson – Chief Executive of the NHS – be recalled to discuss the use of gagging clauses within the health service, and to give evidence to the Commons public accounts committee.

It remains unclear whether Nicholson and other executives were in the loop regarding the gag orders.

Gathering the figures was a two-year battle for Barclay, who finally obtained them after tabling a number of Parliamentary Questions. The Department of Health and Treasury had previously refused to publish the costs.

Some of the highest 'special severance payouts' were at Central Manchester University Hospitals NHS Foundation Trust, which paid £224,000 ($342,000) in 2011.

Meanwhile, a Department of Health spokesman defended the NHS, saying that the number of confidentiality clause payouts was falling sharply and that in 2011/2012, there were 'just' 20 cases – at a cost of just over £500,000 ($763,000). This figure did not include costs for the 105 Foundation Trusts which spent a total of £2.5m ($3.8m) on gagging clauses.

Barclay's findings come just one week after Health Secretary Jeremy Hunt warned against silencing disapproval from within the NHS.

For too long there had been a culture of celebrating success in the NHS but "not being honest about failure," Mr. Hunt told BBC Radio 4. "We must have a culture where people are not afraid to speak out."

The information begs the question of how many deaths and malpractice incidents could have been prevented if the gagging orders weren't taking place. The NHS has been awash with malpractice scandals recently, including the Mid Staffordshire case in which 1,200 patients needlessly died.  

Last week, former chief of United Lincolnshire Hospitals Trust, Gary Walker, revealed a £500,000 'super gag' he was given in 2010. The money was offered in exchange for keeping silent regarding his belief that his hospital was a threat to patients' safety. His former employer now faces a major investigation over its unusually high death rates.

You can share this story on social media: