8 killed, 7 wounded after explosion rocks military depot in Nevada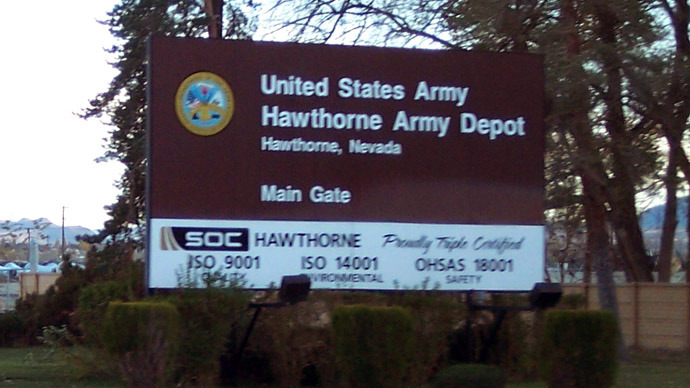 Eight people were killed and seven more wounded after a mortar exploded during a live-fire training exercise at an ammunition storage facility at a a US military facility in western Nevada.
The explosion happened during the course of a US marine training exercise late on Monday at the Hawthorne Army Depot. Four Marines were killed instantly in the blast, while two others died while waiting to be flown to hospital, military officials told NBC News. Two more people later died in hospital. 
The identities of those killed will not be released until their families are notified, officials said.
There were conflicting reports regarding the nature of the blast. According to one account, a 60-millimeter mortar exploded in a tube while Marines were readying to fire it. However, a second account said the marines were picking the shell up to load it when it detonated, NBC News reports. The incident is currently being investigated.

Marine officials have confirmed the soldiers were from 2nd Marine Division, a ground combat force based out of Camp Lejeune, North Carolina. They had been sent to train at the site, which the depot's website describes as a training facility for Special Operations forces preparing for deployments to the Middle East.

A spokesperson with the Regional Emergency Medical Services Authority (REMSA) told NBC News 4 that at least eight people had been flown to local hospitals with unknown injuries.

REMSA spokeswoman Stacy Kendall confirmed that three had been hospitalized in serious condition. Five more had been taken to the hospital in fair condition, with trauma and fractures listed among the injuries. One of the three in critical condition died later in the day.

"We send our prayers and condolences to the families of Marines involved in this tragic incident. We remain focused on ensuring that they are supported through this difficult time," Maj. Gen. Raymond C. Fox said in a statement.

"We mourn their loss, and it is with heavy hearts we remember their courage and sacrifice," he continued. 

The Hawthorne Army Depot, located some 140 miles southeast of Reno, is a massive, 147,000 acre facility consisting of hundreds of buildings used for storing ammunition and other military hardware.

You can share this story on social media: