Three feared dead as military jet crashes in eastern Washington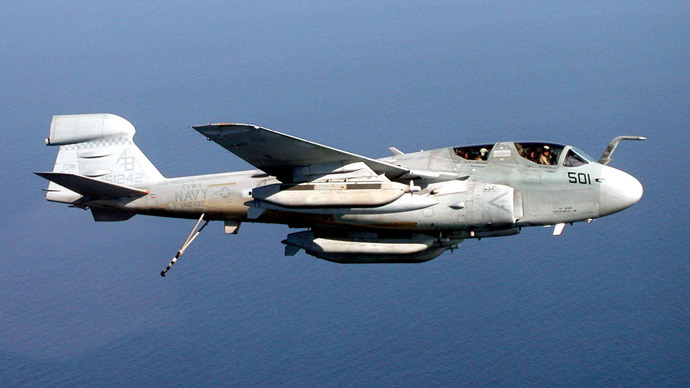 A military plane has crashed after setting off from Naval Air Station Whidbey Island in Washington state, the Lincoln County Sheriff's Office has confirmed. All three people on board are believed dead.
The plane went down around 10 miles outside of Harrington, Washington on Monday morning, Lincoln County Sheriff Wade told Komo 4 News.

He said there were no survivors and police were cordoning off the crash site while waiting for investigators to reach the scene. The victims of the crash have yet to be identified.

Local resident Halee Walter told the station she heard a huge explosion that rattled her home.

"I went outside and of course I could see the smoke," she said. "The ambulance and police and fire trucks were all there and a plane had gone down and there was still another military aircraft circling."

The manager of nearby Odessa Municipal Airport Stan Dammel told KREM 2 that he flew over the scene after hearing the crash. Dammel said all he could see was a charred spot on the ground, which was littered with debris.
"There was no sign of an aircraft," he said. "Except there's a pretty deep depression, a hole in the ground, and a lot of debris scattered around."

Local bus driver Joel Cronrath also told the station he was was able to see wreckage while en route to the scene. Cronrath said that military fighter jets performing what he characterized as "difficult maneuvers" were a regular occurrence in the area.

The plane was a Navy EA-6B Prowler, a twin-engine electronic warfare jet which sets up to four, including one pilot and three electronics countermeasures technicians.
A spokesman for the naval air station also confirmed the crash, but did not provide any additional information.
"It was flying out there. I don't know exactly what it was doing," Reuters cites base spokesman Mike Welding as saying. "Everything is really preliminary at this point," he continued.

Naval Air Station Whidbey Island is located on Whidbey Island, which lies about 30 miles north of Seattle.

There are currently 17 active duty squadrons and 2 Ready Reserve squadrons operating out of the base.

You can share this story on social media: