Opposition leader Navalny faces new fraud, money laundering charges
Published time: 29 Oct, 2013 20:46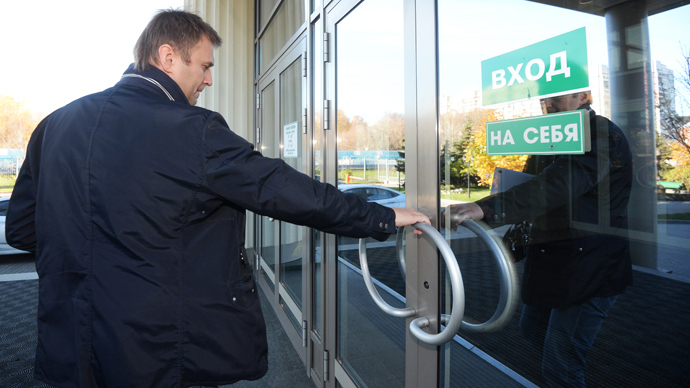 Russian opposition leader Aleksey Navalny, along with his brother, has been officially charged with 30-million-ruble fraud and money laundering as part of a new case against the Kremlin critic, who received a suspended sentence in an earlier trial.
Navalny, 37, and his brother Oleg have been indicted for embezzling "through fraud" over 26 million rubles (US$811,000) from Yves Rocher cosmetic company and over four million rubles ($124,000) from Multifunctional Processing Company (MPC). The brothers were also charged with the laundering of 21 million rubles ($655,000), the Russian Investigative Committee said in a Tuesday statement.

In addition to earlier accusations in the Yves Rocher case, the brothers are now facing new charges in the MPC case.

The committee plans to complete the investigation and pass the case documents for review to victims, defendants, and their lawyers in the near future, the body said.  

Aleksey Navalny, who placed second in Moscow's mayoral election in September, called the accusations "absurd."

"The same sewing machine keeps on working," he told Interfax. He said that investigators presented him with the final version of the indictment in the Yves Rocher case, reducing the initial damage sum by nearly half – from 55 to 26 million rubles.

In fact, he said, the new version of the case is the same "nonsense" as the previous one, when "routine commercial activities that my brother was involved in for three years were suddenly declared fraud, and it is unclear even from the indictment what I have to do with this."

The Yves Rocher case against the two brothers was launched in December 2012.

According to investigators, Oleg Navalny - who served as chief of Russian Post's domestic postal services department in 2008 - "manipulated" Yves Rocher into signing an agreement for cargo mail transportation with Main Subscription Agency, a company set up and headed by Aleksey.

It is alleged that the brothers deliberately overpriced the transportation services they provided to the cosmetic company between August 2008 and May 2011. Investigators initially said that the real cost of the services amounted to about 31 million rubles ($958,414), but over 55 million rubles were transferred to the agency's account.  

On one hand, the reduction of the initial sum of fraud to 26 million indicates some kind of softening, Aleksey Navalny's lawyer, Olga Mikhailova, told Kommersant FM. On the other hand, it shows that the Investigative Committee "does not have a clear understanding as to what exactly was embezzled from Yves Rocher company," she added.

On October 16, a court in Russia's Kirov region gave Aleksey Navalny a suspended five-year sentence on separate embezzlement charges.  His conviction imposes a number of restrictions, such as a ban on running for elected office before the clearing of his criminal record.