Top opposition figure Navalny dodges prison with 5yr suspended sentence
Prominent opposition figure Aleksey Navalny and co-defendant Pyotr Ofitserov have been given a suspended sentence in their embezzlement trial. Navalny has indicated that his team is going to appeal the sentence.
"Neither I nor my colleagues are going to stop the political struggle. We'll carry on," Navalny stressed to journalists following the court's ruling. 

Navalny and Ofitserov are set to be under following restrictions: they cannot change their permanent place of residency without notifying a specialized government body which controls the suspended sentence.

Moreover, they will have to register with this body twice a month. 
Alexey Navalny and Petr Ofitserov get suspened sentences (5 and 4 yrs) in Kirovles case pic.twitter.com/nhGbcaXzpU

— Alexey Navalny (En) (@Navalny_En) October 16, 2013
The oldest human rights activist in Russia, Lyudmila Alekseyeva, said that she is glad it's a suspended sentence.

"The authorities are interested in Navalny being sentenced, even though it's only a suspended sentence: in such a way, they're depriving him of the possibility of taking part in elections. After his success in the mayoral elections and following the growth of his popularity, the authorities are a bit afraid of him," Alekseyeva indicated.

Meanwhile, the head of Presidential Human Rights Council, Mikhail Fedotov, said that Navalny may be subject to amnesty that's set to happen on the occasion of 20th anniversary of the Russian constitution, which is on December 12th. 

In the framework of the amnesty, the persons sentenced for non-violent crimes, including the participants of mass demonstrations, will be released. 
The Russian president's press secretary Dmitry Peskov said that the head of the state's opinion couldn't have lightened the sentence for Aleksey Navalny.

"We don't think so. It's not an issue the president deals with,"  Peskov told Interfax news agency.

Accused of embezzlement while working as an adviser to the governor of the Kirov Region in 2009, Navalny, who denies any wrongdoing, was convicted of large-scale theft in July and sentenced to five years in prison. 
The summer court rulings spurred a wave of protests across Russia, with the main demonstration taking place in Moscow.

Following the protests, which came a day after his conviction, he was freed pending appeal along with co-defendant Pyotr Ofitserov on the condition they adhere to travel restrictions.

The court ruled Navalny may run in the Moscow mayoral elections despite charges set against him.

According to official data, Navalny was second in the mayoral race with 27.24 per cent of votes.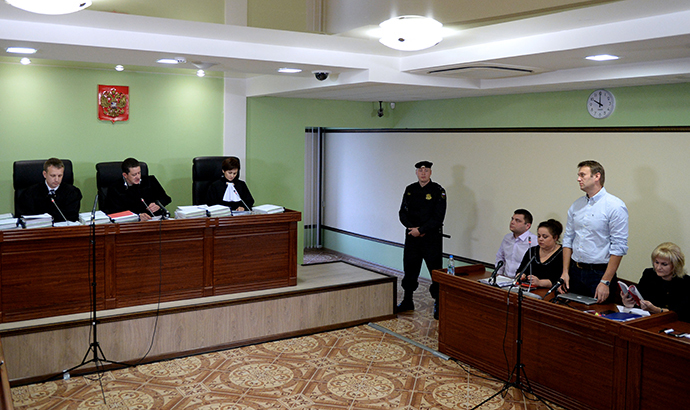 You can share this story on social media: