Russia's Constitutional Court allows former convicts to run in elections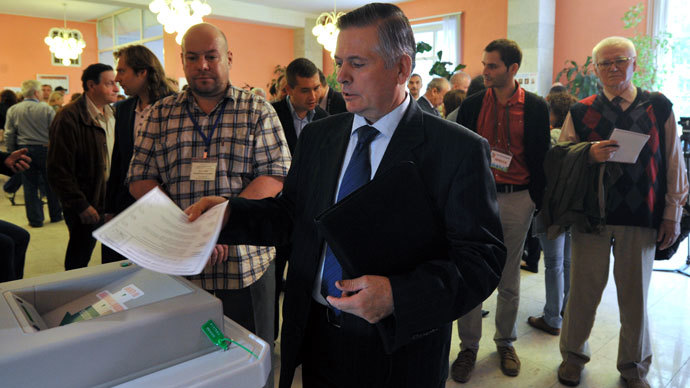 Russia's top court has ruled that the lifelong ban to run for elected office by those convicted of grave crimes contradicts the Constitution. It ordered that the corresponding laws be changed.
"Permanently depriving citizens of their right to be elected turns into the cancelation of the electoral right, which is impermissible," Constitutional Court Chairman Valery Zorkin was quoted as saying by the ITAR-TASS. At the same time, the court recognized that limitations on electoral rights for those convicted of grave crimes were "for the sake of constitutionally important objectives."
The constitutional judges noted in a special statement that the current norms removing ex-convicts from elections did not distinguish the severity of the crime committed, the term of punishment and even if the term was suspended or not. They ordered to change these norms, linking the period of the ban to the conviction terms within the framework of the Criminal Code.
Zorkin especially emphasized during the Thursday press conference that the Constitutional Court could not dictate the exact changes to legislators but can only point at general contradictions. He also said that the changes must be made without any delay so that the nearest scheduled elections are held in accordance with the new rules.
The laws ordering a lifelong ban to be elected for those convicted of grave crimes came into force on July 1, 2012, and these norms have drawn official protests from several people who were barred from running at polls of various levels on October 14, 2012. In their claims these people said that their rights had been infringed twice – by losing the right to run and by the fact that they are punished twice for the same crime.
Russian Criminal Code recognizes all crimes punished with prison terms of five to 10 years as grave and over 10 years as especially grave.
The issue is especially important in Russia, as it boasts some high-profile convicts who have previously announced their political ambitions. Probably the best known is Mikhail Khodorkovsky – once Russia's richest man, but who is currently serving his second term for large scale theft and embezzlement.
Khodorkovsky's lawyers said on Thursday that they welcomed the court decision, but noted that this had no link to their client's future plans, which they flatly refused to discuss.
Another known person whose face might be influenced by the order is anti-corruption blogger Aleksey Navalny, who came second at the September mayoral poll in Moscow with an incredibly high level of support despite being sentenced to five years for large scale graft in mid-July. This was possible as Navalny's sentence will only come in force after the court considers the defense appeal which was lodged soon after the sentence was pronounced and is currently scheduled for consideration on October 16. 
Navalny reacted to the Constitutional Court decision with an ironic tweet reading "good news, my criminal brothers." 
Хорошие новости, братья уголовники http://t.co/wf8BUZuf8Y

— Alexey Navalny (@navalny) October 10, 2013
You can share this story on social media: