NATO to enforce no-fly zone over Libya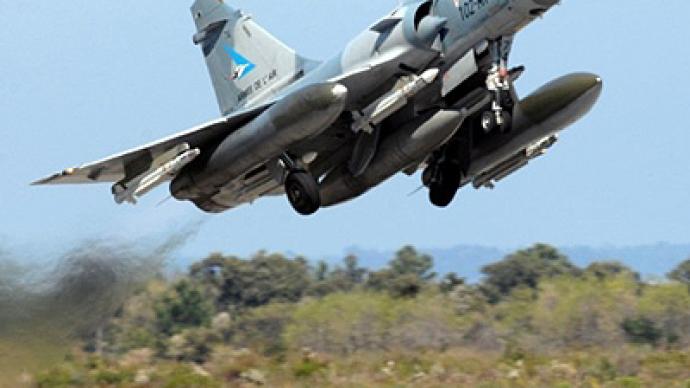 Following six days of intense negotiations among its member states, NATO has finally agreed to assume control of the no-fly zone in Libya, where western warplanes continued their air strikes.
Control of the military campaign in Libya, which was authorized by UN Security Council Resolution 1973 and is known as Odyssey Dawn, will be transferred from the coalition forces to NATO in 1-2 days. "We are taking action as part of the broad international effort to protect civilians against the attacks by the Gaddafi regime," alliance Chief Anders Fogh Rasmussen said. "We will cooperate with our partners in the region and welcome their contributions." NATO officials said the mission, which was approved on Thursday, will last 90 days, but it could be extended or shortened as required.Secretary of State Hillary Clinton said the US was ready to transfer control of its operations to the alliance, which has agreed to "take on the broader civilian protection mission." Meanwhile, the White House says President Obama will give a speech to the nation on Monday explaining his decisions on the Libyan war.French President Nicolas Sarkozy qualified the move by noting on Thursday that NATO's role would entail coordinating the technical aspects of the military operation, while its political coordination would remain the responsibility of all the coalition states, which includes Arab states such as the United Arab Emirates and Qatar.Turkey, which previously ruled out its participation in the operation, has rendered five ships and one submarine, making the most significant contribution of all NATO members. Ankara has also agreed to provide a squadron of fighter jets.The decision preceded an announcement by the French defense chief, Admiral Edouard Guillaud, that Libyan airspace is finally "under control." He told French media on Friday that he was hoping the operation would last "weeks," not "months."Meanwhile, at the African Union headquarters in Addis Ababa, the AU commission chairman Jean Ping said on Friday that the AU is planning to facilitate talks to help resolve the Libyan conflict in a process that should end with democratic elections.This is the first official statement made by the AU since it rejected any form of foreign intervention in the Libyan crisis when the UN Security Council imposed a no-fly zone over Libya last week.In return, Abdul-Ati al-Obeidi, a member of the Libyan delegation which participated in the talks on Friday, has said that his country is ready to hold talks with opposition rebels and to accept political reforms, possibly including elections."We are ready to discuss what the Libyan people want. What kind of reform do they want? If it is elections, we are willing to discuss the details. We are willing to negotiate with anyone. These are our people. There is no division between the Libyan people. There is a division between extremists and the Libyan people," he was quoted as saying by the Associated Press news agency.The Libyan delegation added that the country's government is committed to a ceasefire and that it is demanding an end to the coalition's air strikes and the naval blockade.Meanwhile, the Libyan capital Tripoli continued experiencing air strikes, which Muammar Gaddafi's government claims have killed more than 100 people.RT's Paula Slier said security in central Tripoli has remained unusually high in preparation for possible mass protests following Friday midday prayers. Fuel was running low, threatening to shut down the city's infrastructure. More people continue to flee Libya, with approximately 300,000 reported to have already left the troubled country.Overnight air attacks by Western jets have destroyed some of Gaddafi's tanks and artillery around the strategic town of Ajdabiya.
Humanitarian aid is just a cover to hide the real aim of intervention in Libya, believes Professor Lawrence Davidson of Middle East History at West Chester University. "They [the American government] started this because they saw an opportunity to take out Gaddafi under cover of the civil war. And then they could not tell the American people that… so they said 'we are going to protect civilians'."
However,  a political writer from the US, John Walsh, says that its involvement in the military operation in Libya threatens the democracy of the United States. "Barack Obama has committed an impeachable offense. The Constitution says that for the US to go to war, Congress must vote on it.  Obama has such arrogance, he did not even bother with it…he has to be indicted by the House and tried by the Senate and removed from office for this highest crime."
Nigel Farage, a member of the European Parliament and leader of the UK Independence Party, believes the whole military strategy in Libya has not been thought through."As far as Herman van Rompuy is concerned, regime change is why we are involved in Libya," he said. "What was also surprising was that we had all seen it – to begin with – as France, Britain and America getting involved in this, now coming under the NATO umbrella, but what van Rompuy made clear, was that those countries would not and, in fact, could not have gone to war in Libya without the European Council approving it. So what van Rompuy is saying is that it's the EU as much as anybody else that has started this war – and the aim is to topple Gaddafi.""And I would have thought that it does go against UN resolution 1973, and I see it as a very surprising development. I am very nervous, I am very skeptical, I don't like what is happening in Libya, but here we are, throwing in our aircraft, possibly about to throw in our troops against a man, who just four months ago Mr van Rompuy was hugging in public. The air is pretty thick with hypocrisy here, isn't it? " Farage added.
You can share this story on social media: