Egyptian court accepts appeal for ex-President Mubarak over life sentence, orders retrial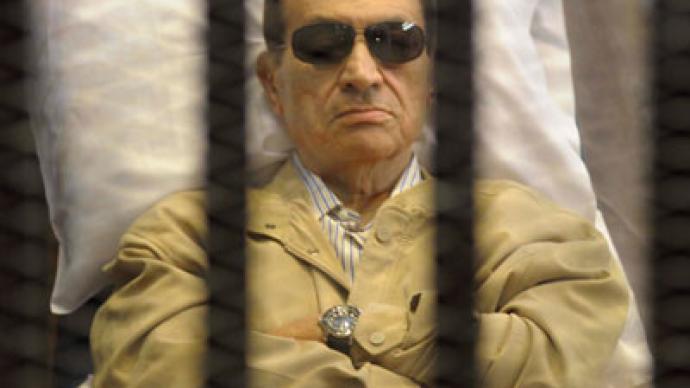 The Egyptian Court of Cassation granted ex-President Mubarak and his former security chief the right to appeal against their life sentences for the deaths of protesters and ordered their retrial. Mubarak will also be retried on corruption charges.
The date of the retrial for either Mubarak or his security chief Habib el-Adly hasn't been announced."The retrial will be based on the same evidence used in the previous trial. No new evidence will be added to the case," Mohamed Abdel Razek, one of Mubarak's lawyers, told Reuters. A new panel of judges could be introduced to consider Mubarak's health when issuing a verdict, the lawyer also indicated.Six of el-Adly's top aides who were acquitted in the same case are also to be retried. Five of them were found not guilty of involvement in the killing of the protesters, while one was acquitted of "gross negligence."The ruling was met with cries of "Long live justice!" by Mubarak supporters who held up his picture and hugged each other in the courtroom while dozens more outside shouted, "We love you, president!" AFP reported.The court also granted the prosecution's request to overturn not-guilty verdicts on Mubarak, his two sons and an associate of the former president, Hussein Salem, on corruption charges. The defendants were not present in the courtroom. Mubarak's sons, one-time heir-apparent Gamal and businessman Alaa, are in prison while on trial for alleged insider trading and using their influence to buy state land at a fraction of its market price.Hosni Mubarak was convicted and sentenced to life behind bars in June for failing to prevent the killing of some 900 protesters during the 2011 uprising. The former leader's defense lawyers argued that the former president did not know of the killings, but an Egyptian fact-finding mission reportedly found that the leader monitored the uprising through a live TV feed at his palace.On Saturday, Mubarak was questioned over gifts worth $1 million which he allegedly received from the country's main state newspaper, Al-Ahram, during his presidency. The gifts were reportedly received from Al-Ahram's former chairman between 2006 and 2011, according to the newspaper's website.The ex-president has major issues regarding his health. Mubarak spent nearly a month in hospital having fallen unconscious shortly after his transfer to prison following the sentence, with state media declaring him clinically dead on arrival. But medical sources said he appeared to have suffered a temporary coma. Since then, there were numerous scares connected with the ex-leader's health. The last time Mubarak was taken to hospital was in mid-December.
You can share this story on social media: