Bombing follows shooting at southern Russia mosque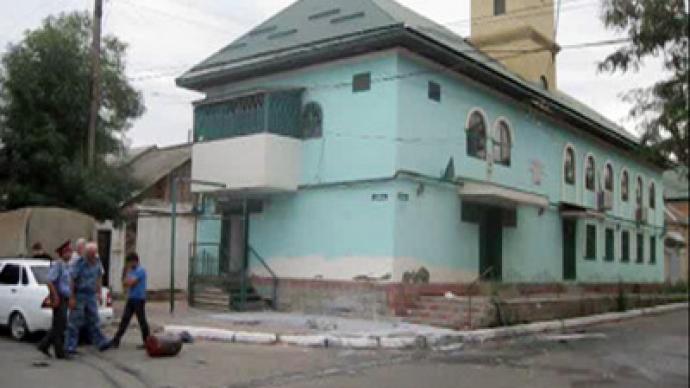 A bomb has reportedly exploded in a mosque in the town of Khasavyurt in Russia's southern Republic of Dagestan, injuring several people. The blast reportedly came after two gunmen opened fire in the mosque, wounding eight.
One of the wounded died in hospital on Sunday.The bomb detonated as police were trying to diffuse a separate explosive device. Authorities say there were two bombs altogether, a local interior ministry source told RIA Novosti reports.However, a  police source told Interfax that minesweepers were able to successfully diffuse a powerful bomb, and said there were no explosions at the mosque.There have been no reports of damage to the building, and it is unclear how many people were injured in the blast.Police found what they suspected to be an explosive device at the mosque after two gunmen opened fire on worshippers."The criminals placed an explosive device that appeared to be a gas cylinder connected to wires in the mosque and sped off in a silver car," a law enforcement source told Interfax news agency."At 20:55 Moscow time on Hamidov Street two armed, unknown men stormed a Shiite mosque after evening prayers and opened fire on the congregation," the Head of the Investigative Committee of Dagestan said.He said that six victims had been taken to the central city hospital in Khasvyurt, adding that two of them were in critical condition. However, a representative of the republic's interior ministry later said the number of victims had risen to eight. The majority of the victims were young people, specifically those "born in 1986-1992."No motive for the attack has been established, and police are currently looking for the suspects. A source within the interior ministry said police had been sent to major mosques throughout the republic, with the central mosque in the capital Makhachkala being placed under "heavy guard." However, he admitted that it would be difficult to provide security at many of the smaller mosques dotting the republic.Another interior ministry sources refuted these claims, saying mosques in the republic were not placed under increased police surveillance. The attack comes during the Muslim feast of Eid al-Fitr, which marks the end of the holy month of Ramadan. It follows a rash of attacks that have taken place over the last several months.On Thursday, a bomb attack targeted a prosecutor in Makhachkala, though he was not harmed. In May, 14 people were killed and 87 injured after two powerful explosions rocked the capital. Earlier in March, at least five policemen were killed and two more injured after a female suicide bomber struck a police checkpoint.Dagestan has seen a low-level Islamist insurgency for over a decade, with the majority of the attacks targeting officials and security forces.