​Badges for vigilantes: Mexico gives anti-drug militias official status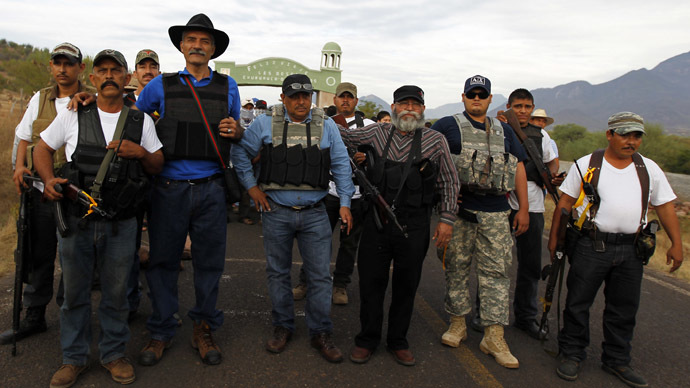 Mexico is signing up vigilantes in the fight against drug cartels in the western state of Michoacan as an official rural defense group. But not all of the militias are eager to be "institutionalized" by the government.
Michoacan will initially register 400-600 militia members in the coming days, AFP reported, citing the state's federal commissioner for security, Alfredo Castillo. Along with the names of vigilantes, weapons will also be included in the registration process.
Vigilante groups grew in Mexico in 2013 amid public frustration with the government's continued failure to tackle gang-related crime and violence. The groups, which had been operating illegally, are mostly comprised of local civilians armed with machetes, handguns and assault rifles. They seek to defend local population from a wave of kidnappings, money extortion, drug trade and murder in their towns and villages.
As they rose to become a force to be reckoned with, they were increasingly cooperating with law enforcement, which preferred to turn a blind eye on their dubious legal status. Earlier this week, Mexico decided to change the situation and legalize the vigilantes.
There are multiple vigilante groups in Michoacan, a violent state where the notorious Knights Templar cartel has its stronghold. The government has made boosting security there a top priority.
But out of more than 20 towns where vigilantes are operating, only eight groups have agreed to the government's proposal to be "institutionalized."
The government earlier announced that it will give registered self-defense groups all the necessary resources to fight against gang activity, including communications and weapons, which would put them on a par with the regular security forces.
The number of militia numbers in Mexico has been estimated at between 10,000 and 20,000 people, according to various sources. The government wants to negotiate the inclusion of more of them into officially registered forces.
The country has previously been struggling to reign in both cartels and vigilantes, but apparently has decided the militias were the lesser evil. Cartel-related crimes have cost an estimated 77,000 lives since 2006.
The coopting of the vigilantes into the state machinery follows a recent Mexican security forces operation that resulted in the capture of one of the four leaders of the Knights Templar gang, Michoacan's government announced Monday.
Although this is a significant victory for the Mexican government, President Enrique Pena Nieto's reputation has come under fire. His decision to cave in to the vigilantes' demands is seen by many in the state as a measure of helplessness.
You can share this story on social media: