Mexican drug violence spreads to social networks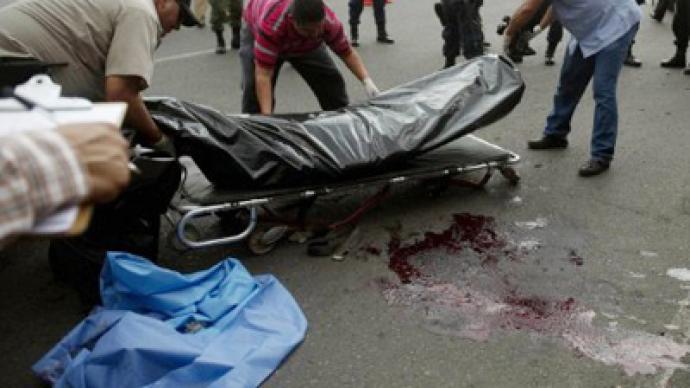 Despite a halving of global cocaine profits over the last 15 years, drug-related violence has sky-rocketed in Mexico. Now, as the cartels diversify their profit base, the drive to brutally silence their critics has spread to social networks.
Speaking before the United Nations, Mexican President Felipe Calderon said that countries on the demand side of the drug trade had a moral obligation to collectively wean themselves off of the illicit narcotics that were fueling violence and chaos in his country and others.But while President Calderon has suggested that the United States decriminalize narcotics if they want to reduce what he referred to as the "astronomical profits of the drug cartels,"  Foreign Policy (FP) reports that the value of the global cocaine market today has shrunk to some $88 billion from a 1995 peak of $165 billion worldwide.And yet, the escalation of violence in Mexico continues unabated.  In 2006, some 2,000 deaths were directly linked to the drug trade, while in 2010, that figure had soared to 11,000.  However, it now appears that the Mexican government's crackdown together with the drop in cocaine consumption might have led the cartels to diversify their business interests.  Many criminal organizations now peddle in US consumer goods that they sell on the Mexican market at a loss.  Apart from receiving clean sources of revenue, the trade also provides a cover for money-laundering operations.  Moreover, the level by which the drug cartels are expanding their business interests is reflected in a recent lawsuit filed by Mexico's national oil company, Pemex.  According to the suit, nine US companies have been implicated in selling some $300 million in stolen oil since 2006 via criminals directly tied to the drug trade.  According to Antonio Mazzitelli, head of the UNODC office in Mexico City, the sum from this single case equals the entire cocaine market in Mexico, cites FP.  With some 468,000 people in Mexico believed to be working in the drug trade as of 2008, the desire to protect this sprawling and illicit industry has led cartels to devise methods of suppression that are increasingly ruthless and far-reaching.  When Maria Elizabeth Macias, a 39-year-old a reporter in the North Mexican border town of Nuevo Laredo, used a community chat room to post information about crime in her city, she was quickly silenced.  After she was violently murdered, her maimed body was dumped on the street next to a computer keyboard and a sign saying "OK Nuevo Laredo en Vivo and social networks, I am Laredo Girl and I am here because of my reports and yours," cites Reuters.Maria is the third person to be killed in Nuevo Laredo alone for speaking out against the cartels on the net.  Earlier in the month, the mutilated bodies of two young people were found hanging from a bridge, with notes placed near them threatening social media users.  After a long campaign of intimidation and murder that has seen 74 Mexican journalists killed since 2000, many traditional media outlets have stopped reporting on drug-related crime. Now, as the use of social media has exploded across Mexico, online activists are filling the vacuum.The Mexican Internet Association (AMIPCI) says Internet use has doubled since 2005 to 35 million users – around 30 per cent of the population. Twitter use has exploded to 2.5 million active users in March from just 32,000 in July 2009, cites Reuters. When 35 bodies were dumped in the middle of the road during rush hour in the port city of Veracruz earlier this month, news of the gruesome act first broke on the microblogging service.    Now, seeking to extinguish the latest lights being shone on their criminal activity, the cartels have turned to the World Wide Web.  "The narcos have people who are experts in communications," said a journalist from Tamaulipas state, home to Nuevo Laredo, who asked to remain anonymous. "They are monitoring Internet sites, blogs, phone calls and the famous social networks on a daily basis," cites Reuters.  Their tactics appear to be working. One Nuevo Laredo journalist spoke of the fear and lawlessness that has spread from society to the cybersphere:"There is no point in denouncing something on the Internet if the authorities aren't going to do anything about it; you are only exposing yourself to more danger." The lack of a properly functioning criminal justice system points to the overwhelming difficulties Mexican authorities face if they hope to protect those seeking to rid their communities of violence and crime.     And if the Mexican government cannot combat the latest campaign of terror being waged against social media users, what may well be the last voice calling out for law and order in the violence-ridden country could be silenced as well.