"There is no military solution to Libya situation"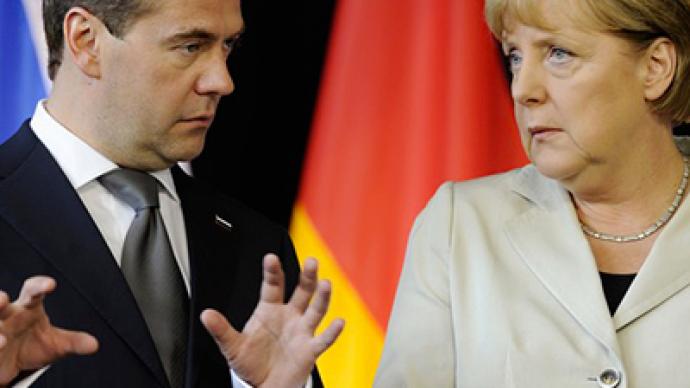 Russian President Dmitry Medvedev and German Chancellor Angela Merkel have expressed a common stance that the conflict in Libya cannot be solved by military means, adding that they are united on the whole Middle East situation.
Both countries abstained on the UN votes authorizing action foreign military intervention in Libya and the escalation of violence is something of great concern to both sides. Russian President Medvedev has called to continue looking for a political solution to the crisis in Libya and, if necessary, engage any mediators in this process."There is no military solution to the Libya problem," Medvedev said at a press conference in Hanover on Tuesday. "We will continue looking for a compromise. In my view, it can be achieved," he added.As for Syria, Russia opposes any steps by the international community that could lead to making it another Libya, Medvedev pointed out."We would not like events in Syria to evolve according to the Libyan scenario. This is exactly why Russia has taken quite a reserved stance at the UN Security Council," Medvedev told a press conference held jointly with German Chancellor Angela Merkel in Hanover. At the press conference, Dmitry Medvedev also expressed his opinion about the Quadriga award board's decision not to hand out the awards this year to the announced nominees, including Russian Prime Minister Vladimir Putin.The Russian president has been on a visit to Germany to discuss a number of economic, political and cultural issues.A package of 15 bilateral documents has been signed in the presence of Dmitry Medvedev and Angela Merkel on the sidelines of the summit in Hanover. The documents include joint declarations of intent to conduct the Year of Russia in Germany and the Year of Germany in Russia in 2012-2013. A number of commercial agreements were also signed at the summit.
Russia seeks gas profits from German nuclear phase-out
Germany and Russia already have strong ties as trading partners, and the announcement by Germany that it plans to shut all its nuclear power stations in the light of the Fukushima accident in Japan gives Russia's Gazprom an opportunity to expand in Germany. If the European demand is as high as Gazprom hopes it will be, Russia may build a third string of the Nord Stream underwater gas pipeline, Moscow says. This may be especially true since the construction of the second large pipeline from Russia to Europe, South Steam, is progressing slower than expected due to differences between project member states. Nord Stream is to be launched in October.Gazprom sees Germany as a stepping stone to the whole EU market. Germany really hopes to expand on the relationship with Russia tapping into Dmitry Medvedev's vast modernization program for the country.And given the problems in the rest of the eurozone in countries like Portugal, Greece, Ireland and potentially Spain and Italy, there are concerns that the European market may not be providing Germany with the same opportunities as before. Nevertheless, President Medvedev says he is cautiously optimistic about the future of the euro.
You can share this story on social media: