"NATO will never attack Russia" – Anders Fogh Rasmussen
Published time: 7 Jun, 2011 13:29
Edited time: 7 Jun, 2011 18:51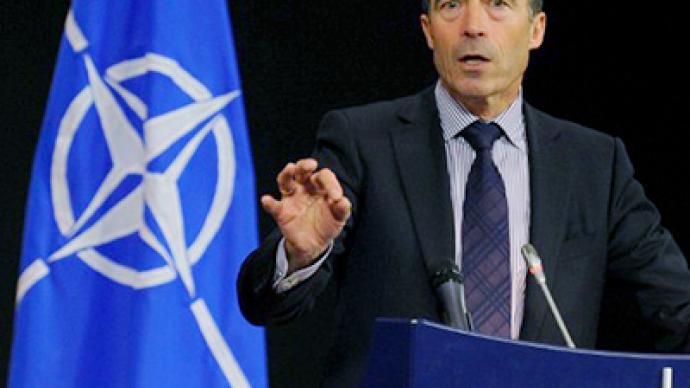 The NATO Secretary General says that the North Atlantic military bloc does not want to cooperate with Russia on missile defense in Eastern Europe, while adding that it no longer recognizes "spheres of interest."
Despite Moscow's repeated warnings that a missile defense system constructed on Russia's western periphery would constitute a national security threat, NATO is stubbornly pushing ahead with its unilateral designs, threatening the European continent with another arms race.
"Our position has been very clear from the beginning," Rasmussen told Interfax in an interview. "All Allies are interested in developing cooperation with Russia in the field of missile defense. However, we are talking about synergy between a NATO and a Russian system. The reason is simple – NATO can not outsource to non-members collective defense obligations which bind its members."
There you have it, straight from the horse's mouth: there will be no cooperation on European missile defense between NATO and Russia. Period.
In yet another example of European leaders essentially forcing Russia's hand on strategic matters (the last time such a momentous breakdown occurred was just before the outbreak of World War II, when European leaders balked on the idea of joining forces with the Soviet Union against the rising threat from Hitler's Germany), NATO is willing to risk an all-out arms race, not to mention Russia's valuable partnership against immediate global threats all for a system that may not even do what it is designed to: protect Europe.
"NATO's territorial missile defense system will be part of such collective defense framework. We assume that Russia is not ready to cede its sovereignty either," Rasmussen told Interfax. "NATO's vision is of two separate but linked systems which share information and provide each side a clearer picture and better warning of possible threats."
Russian President Dmitry Medvedev did not mince words when he warned that failure to come to agreement on the missile defense question will ultimately result in an "arms race by 2020."
"I am not satisfied with the American side's reaction to my proposals and with NATO's reaction in general," the Russian leader told a news conference at the G-8 Summit in France. "Why? Because we are wasting time. Even though I spoke about the year 2020 yesterday as a deadline…which is the year when the construction of a four-stage system of the so-called adaptive approach ends."
"After 2020, if we do not come to terms, a real arms race will begin," Medvedev warned.
Meanwhile, it sounds preposterous for Rasmussen to suggest that Russia would have to "cede its sovereignty" in order to team up with its European and American partners on missile defense in Eastern Europe.
Although the NATO chief may be simply – and a bit recklessly – playing up to nationalistic passions, certainly he has heard of the International Space Station (ISS), which brings together people from around the world in what is perhaps the greatest multinational project of all time. Did this initiative require any "ceding of sovereignty" by a single participating government? Of course not.
So according to Rasmussen's logic, it is acceptable for Russia to cooperate with its international partners when the objective is peaceful in nature (and there are no other taxi rides into outer space), but when we are talking about a project that is overtly militaristic by nature, and potentially hazardous to Russia's long-term health, then cooperation with Russia is unwanted.
The seemingly contradictory nature of Rasmussen's remarks does not stop there.
When asked if NATO would be willing to provide "legally binding guarantees" that the missile defense system is not against Russia, Rasmussen practically squirmed and twisted straight out of his chair.
"Again, if we go back to the Lisbon summit we see a truly historic agreement – Russia and Allies confirming that they don't see each other as opponents or a problem for each other but rather as partners seeking to build strategic partnership," he assured. "I can also assure you – and I have said it publicly on many occasions – that NATO will never attack Russia and we are convinced that Russia sees the Alliance in the same light."
Well, there you go; "NATO will never attack Russia." I am sure that pledge will make the Russian military command sleep better tonight.
The very fact that NATO is trying to convince Moscow that "we will never attack you" gives some indication that such a scenario, unlikely as it may be, is not a complete impossibility. After all, if one side goes out of its way to deny the possibility that a certain event will happen, it logically follows that it could in fact happen. At least this is the position that the Russian military will be forced to assume, since no country ever protected itself by taking the promises of either friends and enemies alike at face value.
If nothing else, the atmosphere of mistrust that a unilaterally conceived missile defense system will have on relations between Europe and Russia seems hardly worth the effort of constructing such a system in the first place.
The United States, meanwhile, could care less what Europe and Russia think about each other, but it certainly does not hurt its position in the region if the overall sentiments are negative.
But back to the main question: Will NATO provide Russia with legal guarantees that the missile defense system will not be used against Russia? The answer is simple: No.
Rasmussen continues: "I do agree that we still need a greater degree of mutual confidence and trust. This is understandable following the legacy of the Cold War – long over in reality but still perhaps lingering in the minds of some people here and there. But the most promising path towards greater trust is more discussion, more political debate and exchange, rather than complicated legal formulas which would be difficult to agree on and ratify among 29 countries."
What Rasmussen calls "complicated legal formulas" could be enough to save Europe from the specter of another arms race. Would it not make sense, if technical cooperation on missile defense is rendered infeasible in the prevailing circumstances, to at least call up some lawyers and draft a legal document that states in no uncertain terms that NATO will not activate the system against Russia someday?
Is NATO trying to protect its legal position in the event of some hypothetical war tribunals? If not, then what is the reason for not agreeing to provide Russia with such a simple statement?
Yet all Rasmussen can do is turn the tables on Russia, saying
"I would certainly prefer to see that they (military doctrines) do not contain clauses describing partners as even potential threats."
Yet it has been NATO's dramatic expansion over the past 20 years – something else it promised once upon a time never to do – that makes many people in Russia perceive the military bloc as a potential threat.
­No more "spheres of interest"
When asked to give his opinion on the idea of 'spheres of interests' or 'influence in international affairs,' Rasmussen said these terms should be tossed into
"the dustbin of history."
"NATO does not support the idea of spheres of interests or influence," he said. "This concept should be left where it belongs – in the dustbin of history. We all live in an interdependent, global world in which countries – great, medium and small – should enjoy the same rights and sovereignty. NATO is certainly not developing any 'spheres of influence' of its own."
It is difficult to understand how Rasmussen reconciles his notion of NATO's "collective defense framework" with his model of a brave new world where "spheres of interest" are a thing of the past. Indeed, why pursue a missile defense system in the first place if you are not concerned about a particular "sphere of interest"?
The real question, however, is how NATO, which certainly acknowledges a sphere of influence, could jeopardize its relationship with Russia for a system that may not work against enemies that may not exist. The only plausible explanation is that the missile defense system is being designed specifically with Russia in mind, and not from the position of protecting it (even if this were not true, which is impossible to prove, Russia will have no other choice but to believe it is so). Otherwise, what does NATO have to lose by cooperating with Russia, who has some of the best military designers in the world? Nothing, except a possible strategic advantage in some future war, which would certainly be the war to end wars.

The possible future outcome of this standoff becomes more ominous when we consider the reckless trajectory of US foreign policy, and, by natural extension, NATO foreign policy over the past decade (Yugoslavia, Afghanistan, Iraq, and now Libya), which has been anything but prudent. Meanwhile, there remain individuals with a suicidal bent of mind who somehow believe that such a thing as a "winnable nuclear war" actually exists.
"When the guardians of the arsenals foster the delusion that nuclear weapons are usable and nuclear wars winnable, deterrence heads straight toward Armageddon," warned Arthur M. Schlesinger in his book The Cycles of American History (1986). "Perhaps the vision of Nuclear Winter, falling impartially on aggressor and victim alike, will be the ultimate deterrent."
In February 2010, President Medvedev approved Russia's new military doctrine, which places extra emphasis on nuclear deterrence.
"Russia reserves the right to use nuclear arms in retaliation for any use of nuclear weapons or other weapons of mass destruction against Russia or it allies and in cases of using conventional weapons which pose a direct threat to the state," the document reads.
Meanwhile, it will raise cackles in Moscow that military cooperation is being pursued between NATO and Russia on other fronts, but shunned when it comes to the question of missile defense, a highly sophisticated system that is designed to grow both in geographical range and technological capabilities.
Indeed, Russia could very well find itself "surrounded" by this system by 2020.
What is particularly inexplicable about the failure to cooperate on this system is that cooperation between NATO and Russia already exists on so many fronts, and without any "cessation of sovereignty."
By Rasmussen's own account: "Military cooperation (between NATO and Russia) is steadily increasing. There will be two highly significant exercises in June at either end of Europe. In Poland, Russia and Turkey, we will demonstrate our joint ability to counter terrorist threats to civil aviation to make sure there is no repeat of the 9/11 attacks in Europe. This Cooperative Airspace Initiative will become operational before the end of the year. Off the coast of Spain, NATO and Russian ships and submarines will practice underwater rescue techniques together…"
The NATO Secretary General also mentioned the joint efforts to train anti-narcotics officers from across Central Asia, Afghanistan and Pakistan, the fight against terrorism, including by updating the NRC Action Plan on Terrorism and developing technologies for detecting explosives to stop potential (suicide) bombers before they can do harm.
"The twentieth century was the century of confrontation between NATO and the Soviet Union," Rasmussen declared. "I want this 21st century to be the century of cooperation between Russia and NATO."
But before Mr. Rasmussen's dream can become reality, it seems that NATO is going to have to do much better than simply pay lip service to the idea of cooperation. It will have to put its money where its mouth is and build a truly lasting partnership with Russia. Peace on the European continent depends on it.